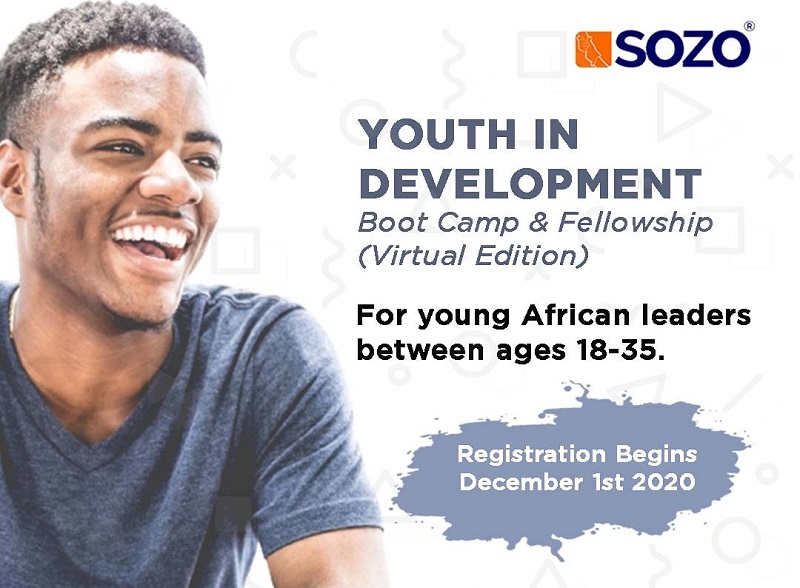 Sozo Networks Youth in Development Boot Camp and Fellowship 2021 for Young African Leaders
Deadline: January 6, 2021
Applications are open for the SOZO Youth in Development Boot Camp and Fellowship 2021. The Youth in Development Boot Camp and Fellowship provide civic leaders with skills and tools to start and effectively lead social change initiatives.
Most of the Alumni of this program have gone ahead to create viable and highly impactful social ventures that are transforming the social-economic landscapes of their communities. Sozo Networks and the IMPACT Toolbox is happy to host another cohort of outstanding young Africans in this unique professional development experience.
Program Details
One hundred (100) young leaders would attend a 3-day virtual boot camp. During this transformative learning experience, participants will hone their leadership skills and acquire knowledge on leading sustainable social change. These hundred (100) young leaders would have the unique opportunity to learn directly from social change leaders with exceptional track records and academics from across the world.
Participants would become a part of the Impact Toolbox and Sozo Networks' formidable network of social change leaders. At the end of the boot camp, each participant will submit an action plan and a social venture idea proposal that reflects what they have learned. Twenty (20) of the participants would become the 2021 Youth in Development (YID) Fellows based on the quality of their action plans and social venture idea proposal.
Benefits
2021 YID Fellows will engage in a 3-month professional development program during which they will enjoy the following through the Impact Toolbox:
Free access to over $1,200 worth of online courses.
Opportunity to pitch for up to $3,000 seed funding.
Exclusive mentorship and one-on-one strategy sessions.
Connection to peer collaborators from other parts of the world.
Exclusive networking opportunities.
Eligibility
Applicant must have an idea or initiative for social change;
Be between the ages of 18-35 on or before the application deadline;
Be a citizen of an African country and reside in the continent;
Be proficient in reading, writing, and speaking English;
Be available to attend a 3-day boot camp online from February 25 to 27, 2021;
Willing to step down training to at least ten (10) other people.
Application
Complete the form honestly and accurately. You may work on the application offline to ensure the safety of your answers and transfer at the point of submission. This application will close by 11:59 pm WAT on January 6, 2020.
For more information, visit SOZO.