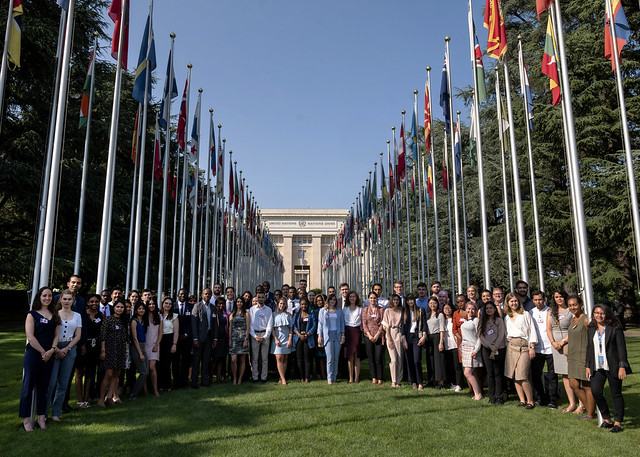 United Nations Information Service's Graduate Study Program (GSP) 2021
Deadline: March 5, 2021
Applications are open for the United Nations Information Service's Graduate Study Program (GSP) 2021. The United Nations Information Service's Graduate Study Program (GSP) is the longest-running educational program of the United Nations. Now in its 59th year, over the decades the GSP has trained thousands of youth from over 100 countries.
The seminar provides an opportunity for participants to deepen their understanding of the United Nations System and the International Geneva through first-hand observations, lectures, research, group work, and visits to Geneva-based institutions.
The 59th Graduate Study Program will be held at the Palais des Nations in Geneva, Switzerland from Monday, 28 June to Friday, 9 July 2021. It will comprise lectures given by representatives of the United Nations and other Geneva-based organizations, visits to institutions, and daily work in working groups under the guidance of expert moderators. The GSP theme for 2021 will be: "Post-COVID World: Reset, Resilience, Recovery"
Cost
Participation in the program is free of charge.
The United Nations does not make any financial contribution towards visa, travel, board and lodging costs of participants. Governments, universities or foundations may offer grants to selected candidates. Candidates should seek advice from their universities in this regard.
Eligibility
Applicants must be between 22 and 32 years of age at the time of application.
Applicants must be enrolled in a master's degree program or a postgraduate degree program at the time of application.
Applicants who have already participated in previous editions of the Graduate Study Program will not be able to apply again.
Fluency in English is essential.
As several sessions and discussions may be held in French, working knowledge of French is also needed.
Selection Criteria
The Selection Committee is guided by the following criteria:
Academic background
Extracurricular activities
Geographical balance
Gender balance
Knowledge of the two working languages of the Program (English and French)
Usefulness of the Program for the career of the applicant
Application
Th application form should be accompanied by a copy of the applicant's passport, a letter of recommendation (in English or French only) from a university or a governmental authority, a proof of current enrolment (at the time of application) in a master's degree program or a postgraduate degree program, and university diplomas obtained.
Please note that incomplete applications will not be taken into consideration.
Once selected, successful candidates will be asked ahead of time to provide a medical certificate attesting their good health and a proof of medical insurance coverage in Switzerland for the duration of the GSP. These two documents will be accepted in English or French only. Applications from candidates who are already employed full time will not be considered.
For more information, visit United Nations.