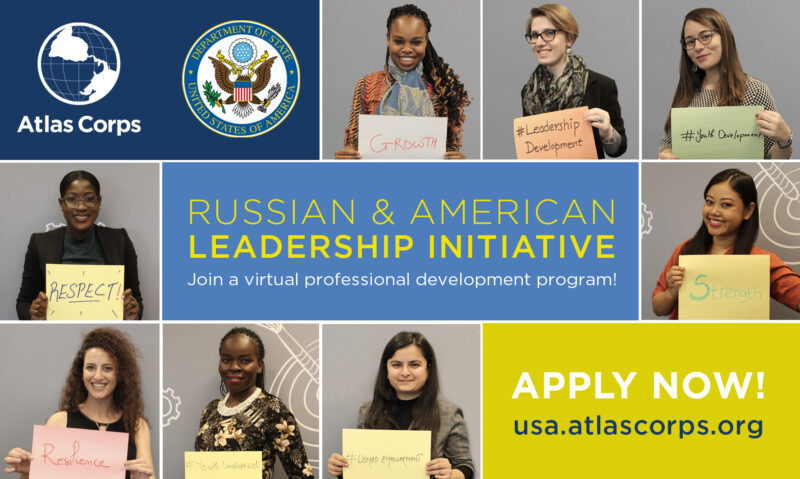 Atlas Corps Virtual Leadership Institute for American Women Professionals 2021
Deadline: January 18, 2021
Applications for the Atlas Corps Virtual Leadership Institute for American Women Professionals 2021 are now open. The Atlas Corps Virtual Leadership Institute is an online learning community for global social change leaders based on the established Atlas Corps Global Leadership Lab. Participants, known as Atlas Corps Scholars, enhance their professional skills, build their global networks, and prepare for leadership in their home communities
The Virtual Leadership Institute is implemented with partial support from the U.S. Embassy in Moscow, as part of a special initiative to build stronger ties between Russian and American women. Their program will include Scholars from more than 40 countries, with additional opportunities for connections between Russian and American Scholars. The Leadership Institute focuses on three themes: Developing Self, Developing Others, and Leading Movements.
Format
The Leadership Institute is organized into five online learning modules: Orientation, Developing Self, Developing Others, Leading Movements, Reflection Retreat. This seven-month online program includes keynote speakers, interactive workshops, self-led activities, discussion groups, and community-building activities with leading U.S. organizations and leaders. Scholars will also work on an individual project focused on their own professional development and/or on positive social impact for the community; projects can be new or existing activities.
Benefits
Engagement in approximately 100 hours of FREE professional development training;
Publicity on Atlas Corps external communication channels;
Access to additional Atlas Corps trainings and opportunities;
Lifetime enrollment in the global Atlas Corps Community (of 900 social change leaders from 100 countries) upon successful completion.
Eligibility
Applicant must be a U.S. citizen that identifies as a woman;
Have two or more years of full-time professional experience working to address critical social issues;
Possess a Bachelor's degree or equivalent;
Be proficient in English (oral, writing, reading);
Be aged 35 or younger;
Have technological capacity to participate in video calls which may be during working hours (1-2 per month);
Be available to commit to 2-3 hours of online activity and assignments per week for 7 months.
Application
Apply by January 18 to be considered for the March 2021 cohort!
Click here to submit application
For more information, visit Atlas Corps.