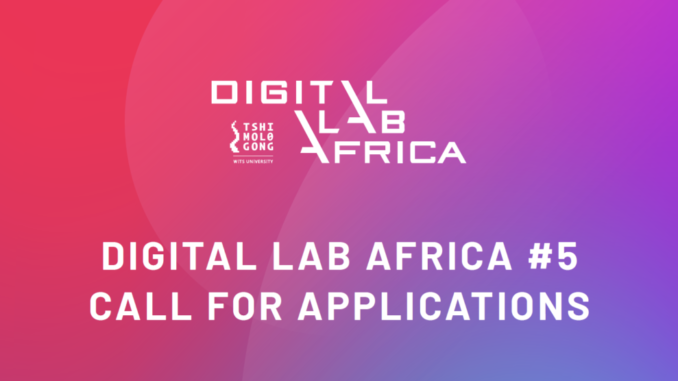 Call for Applications: Digital Lab Africa 2021 for African Creatives
Deadline: April 4, 2021
Tshimologong Digital Content Hub is calling all African creatives to submit their projects in animation and immersive experience (XR) for the Digital Lab Africa 2021.
The Digital Lab Africa (DLA) is the first platform dedicated to creative content linked with innovation in Africa. Led and managed by Wits University's Tshimologong Digital Innovation Precinct, it is supported by AFD (Agence Française de Développement). The very idea of DLA is to incubate emerging creative talent by offering them a springboard to fast track their projects with the support and expertise of DLA ecosystem in France and in Sub-Saharan African countries.
The Pan African accelerator focuses on 5 key categories: Immersive Experience, Video Games, Music, Animation and Digital Art. The programme initiated five years ago by the French Institute in South Africa (IFAS) counts SACEM, TRACE, TV5 Monde Afrique, the French Embassy in Nigeria, as well as IFAS, amongst others, as partners.
Benefits
Selected applicants are granted with a Digital Lab Africa online incubation program (as per the category) to fast track the development of their respective project. The online incubation and mentorship programs combine group and individual sessions that will help DLA#5 laureates to work on identified needs, and strengthen their projects to fast-track its development. It includes:
Online mentorship & coaching by French and Sub-Saharan African experts.
Online workshops organised by key players of the digital creative industry.
Participation to online industry events.
Eligibility
Any creatives and cultural entrepreneurs from Sub-Saharan African countries can apply and get the chance to take part in the DLA#5 mentorship and incubation online program.
Application
Email the following application files (in French or in English) to [email protected]:
Pitch deck / Presentation document (PDF, PowerPoint or Word) including:

Synopsis
Spec treatment
Director's statement
Target audience and strategy
Technical information

Animation: what animation technic / techniques is/are used and why
XR: What technology/technologies is/are used and why
Graphic / Visual elements

Any preview, pilot or video demo of the project (if available).
A short video pitch [2 to 3 min] explaining your concept and why you want to be part of the DLA Mentorship & Incubation program.
A cover letter explaining why you want to take part in the DLA program.
A resume/curriculum vitae of the applicant and/or description of the company represented.
A picture (.jpeg) of the applicant.
For more information, visit Digital Lab Africa.