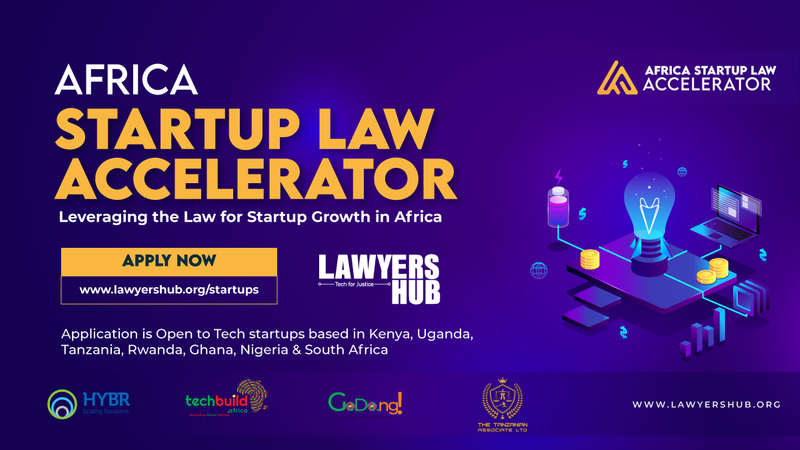 Lawyer Hub Startup Law Accelerator 2021 for African Tech Startups
Deadline: April 1, 2021
Do you run a tech startup based in Kenya, Uganda, Tanzania, Rwanda, Ghana, Nigeria or South Africa? Applications now for the Lawyer Hub Startup Law Accelerator 2021.
Startups and SMEs contribute largely to the digital economy in Africa. An estimated $2.4 billion in capital and acquisition value was recorded across the African tech and innovation scene in 2020. Still, startups in Africa struggle with in-depth legal training support to enable them to set up legally sound and risk proof businesses, products and strategies from an early stage.
Having considered the role that tech startups play in the growth of Africa's economy and their legal needs, the Lawyers Hub introduces a 12-week accelerator geared towards supporting pre-seed startups in strategy and business development with training on legal strategies for startup growth, investor readiness and sustainability.
During the 12 weeks, the cohort will engage with program facilitators, learning and applying various aspects of the law in scaling their innovations including;
Startup life-cycle aligned legal workshops;
Monthly check-in with guest facilitators;
Publication of resources;
A prototype and product demonstration day.
Benefits
Enjoy access to extensive legal training and support from key ecosystem players as mentors, program facilitators and funders.
Benefit from an activity-packed mentorship program leveraging accelerated knowledge processes to impart years of accumulated wisdom in three months.
Gain access to an exclusive network of ecosystem stakeholders.
Learn relevant management and operational skills such as legal auditing and self-assessment for tech ideas and products in areas such as privacy and data protection, legal structures audit, Intellectual Property.
Training on how to participate in tech policy in Kenya and access to a vibrant policy engagement forum.
Eligibility
Open to tech startups;
Startups should be based in Kenya, Uganda, Tanzania, Rwanda, Ghana, Nigeria, South Africa only.
Application
Applications deadline is Thursday, April 1, 2021. No application after this deadline will be accepted.
For more information, visit Lawyer Hub.