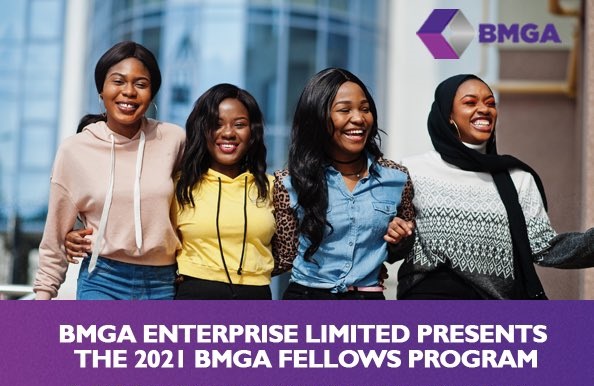 BMGA Fellows Program 2021 for Young African Women
Deadline: April 18, 2021
Applications are open for the BMGA Fellows Program 2021. The Program is a social impact initiative designed to narrow the gender skills gap that exists among female university graduates in Africa. It is a six-month online blended program that provides young women with access to knowledge and resources required to gain fundamental employability skills that strengthen their marketability for a successful career in the 21st Century.
Based on the learnings and methodology from BMGA's capacity-building program for corporate clients, the program was designed to give academically motivated female university graduates or final year students the unique opportunity to have a transformational learning experience that will play a pivotal role in their personal and professional development. The program enables participants to develop essential skills such as critical thinking, problem-solving, communication, emotional intelligence, teamwork among others.
Benefits
Globally curated learning contents from reputable institutions and organizations taught by subject experts and professors from the top universities across the globe.
In-program mentorship pairing with graduate students from the University of Cambridge, Imperial College, amongst others.
One-on-one career coaching from executive women with an international career.
Participation as a live audience of the recording of the BMGA Leadership Speakers Series Podcast.
Exposure to the invaluable BMGA Fellows alumni network for continued learning, networking and lifelong support.
Eligibility
Open to young women from Ghana, Nigeria, Rwanda, South Africa, Uganda, Zambia.
Applicant should be final year university students and early career professionals with not more than 2 (two) years of post-university work experience.
Excellent academic record: Applicants must have graduated top of their class. Final year students must have a current CGPA equivalent to a B+ [UK grade point system].
Have regular access to the internet.
Application
Candidates are required to fill out and submit the complete application by Sunday, 18 April 2021. This is a strict deadline. Incomplete applications will not be considered. All information submitted will be confidential and only passed to those involved in the selection process.
Application requirements include:
Personal information
Essay questions
Resume
Reference Letter (less than 1 page) from someone who knows you well to support your application for the program. Please note that the reference letter must be typed in an official letterhead and signed by the referee.
For more information, visit BMGA Fellows Program.