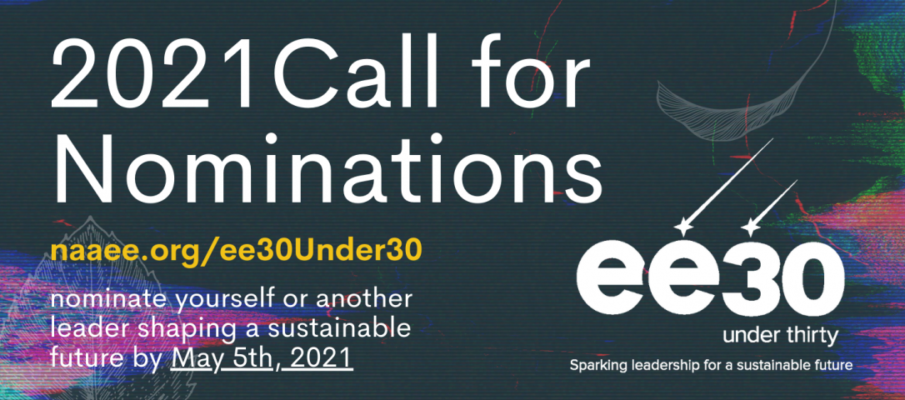 Call for Nominations: EE 30 Under 30 Class of 2021
Deadline: May 5, 2021
How are you harnessing the power of education to shape a sustainable and equitable world? The North American Association for Environmental Education (NAAEE) wants to know! They have opened the search to find 30 game-changing leaders under 30 years of age who are using environmental education to build a sustainable future for all.
Since 2016, NAAEE's EE 30 Under 30 program has recognized 150 individuals from around the world who are making a difference through environmental education. To address today's complex challenges, we need a diversity of perspectives, skills, and experiences. EE 30 Under 30 celebrates the unique and passionate leadership of talented young leaders around the world and gives them a professional boost to increase their impact.
Benefits
The EE 30 Under 30 Class of 2021 will receive global recognition for their work and join a growing alumni community of inspiring EE leaders, with ongoing opportunities for professional development and networking.
Eligibility
Open to game-changing leaders under 30 years;
Nominees should demonstrate proven leadership using environmental education in any way.
Recognizing the complexity of achieving a sustainable and equitable future, they welcome applicants from across sectors and disciplines.
Nomination
They strongly suggest including a letter of reference if you are able to (see section 3 of the application). Your reference must also be received by May 5 at 11:59pm US Eastern Time.
For more information, visit EE 30 Under 30.