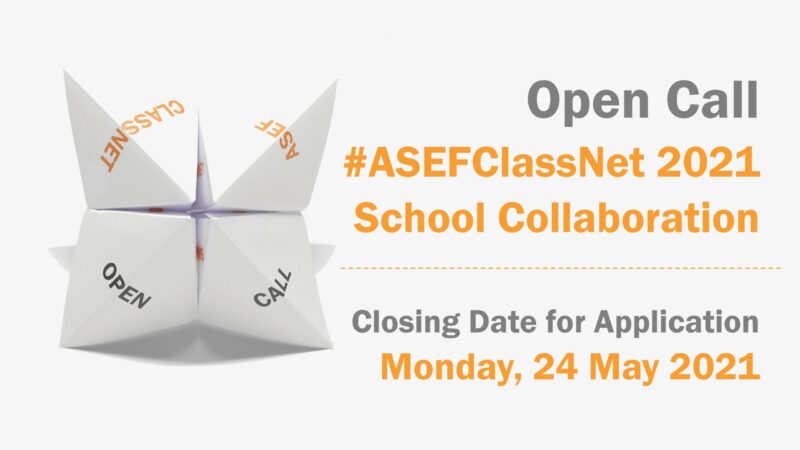 Asia Europe Foundation (ASEF) Classroom School Collaborations 2021
Deadline: May 24, 2021
Applications are open for the Asia Europe Foundation (ASEF) Classroom School Collaborations 2021. ASEF ClassNet School Collaborations are spin-off activities of the ASEF Classroom Network that embrace learning goals for the digital era.
They are designed, coordinated and implemented by passionate school leaders, teachers and their students across Asia and Europe and consist of both virtual & practical activities. School Collaborations typically have a duration of about 3-6 months. The projects start in June 2021 and are expected to be completed by October 2021.
In 2021, ASEF will organise two school collaborations open for schools representatives from all 51 ASEM Partner countries:
Capacity Building on Education & SDG3 – Good Health & Wellbeing
"Well-being of Teachers & Students"
Capacity Building on Education & SDG 5 – Gender Equality
"Gender Equality and the SDGs"
Eligibility
Open to teachers from schools in ASEM countries;
Must have good command of English;
Have internet access & computers with a webcam; video chat platforms (Microsoft Teams, Zoom or Skype), Google Drive, Facebook, Dropbox, Slack, Graphic Design & Editing Tools;
Be available for 5 hours per month; specific dates/times of monthly activities/meetings to be confirmed by project coordinators with participants in due course.
Application
ASEFClassNet is accessible to all participants. The organisers do not discriminate any applicant or participant on the basis of his or her race, national origin (ancestry), colour, gender identity or expression, sexual orientation, pregnancy, disability, religion (creed), marital status, or age. Should you have any additional needs, feel free to contact the organisers at [email protected]
For more information, visit ASEF.