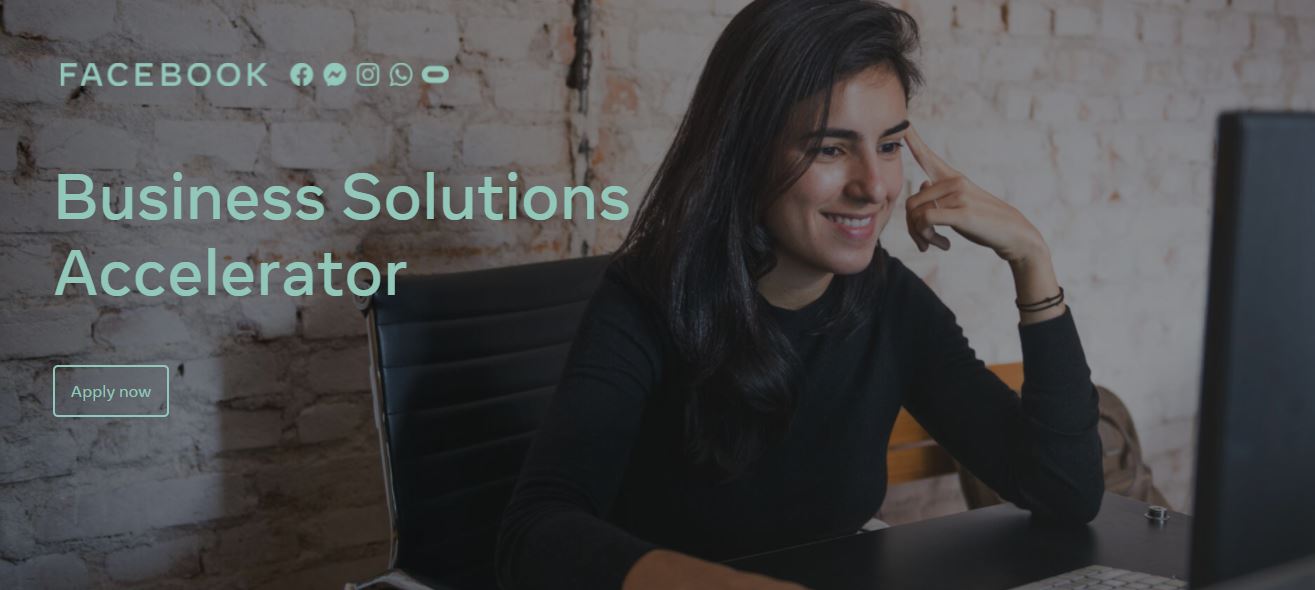 Facebook Business Solutions Accelerator 2021 for Startups
Deadline: June 24, 2021
Applications are open for the Facebook Business Solutions Accelerator 2021. Facebook is inviting innovative companies that act as third-party enablers for businesses to apply for their new Business Solutions Accelerator.
Do you support merchants with solutions like customer data platforms,
service and creative apps or system integrations?
If yes, this 12-week virtual program can provide your team with technical support and product education across Facebook tools like Conversions API, Facebook Business Extension (FBE) 2.0 and Business Apps. You can learn more about these products and platforms, and how these solutions can accelerate business growth.
Participating startups can also expect to build their professional networks with fellow third-party providers, learn more about Facebook's own product roadmaps, and benefit from insider perspectives on the latest trends and technologies. Through the accelerator, they are looking forward to nurturing and collaborating with technology partners that share their commitment to improving the merchant experience for businesses across the Facebook family of apps.
Solutions that will be Covered
Conversions API: Conversions API is a Facebook Business Tool that helps businesses stay ahead of these shifts by sharing key web and offline events, or customer actions, directly from their server to Facebook's. Conversions API doesn't use cookies, so web browser settings don't impact the ability to send data from customers that have already provided all necessary consents (if any).
Facebook Business Extension: Facebook Business Extension is a solution which helps you simplify the process of enabling Facebook tools for businesses using your platform. By integrating with Facebook Business Extension, you can unlock a broad suite of Facebook business tools for your customers across multiple verticals including eCommerce, services and creative — experiences such as Facebook Shops, Dynamic Ads, and other business tools available across the Facebook family of apps.
Business Apps: The new Business Apps interface with-in Facebook Business Suite provides an all in one solution for businesses to discover your platform and start their integration without leaving Facebook. By integrating with Business Apps, you can help get your business customers set up for success and
drive measurable results.
Benefits
Learn the latest on Facebook technologies;
Discover the key technology areas Facebook is investing in;
Connect with dedicated Facebook mentors for guidance on product development and business growth;
Build relationships with global startups, as well as venture capital funds and investors.
Eligibility
Startups they are looking for include:
Customer Data Platforms: Packaged software that creates a persistent, unified customer database that is accessible to other systems.
Creative Apps: Expanding creative production capacity of businesses with video/image creation and editing solutions, automated copywriting and contents packs, etc.
Service Apps: Supporting businesses and their customers with appointment booking, reservations, or food ordering solutions.
Platform Integrators: Reinforcing businesses with a broader spectrum of automations such as workflow automation.
Application
Apply before the June 24, 2021 deadline. No applications submitted after this date will be accepted.
For more information, visit Facebook.