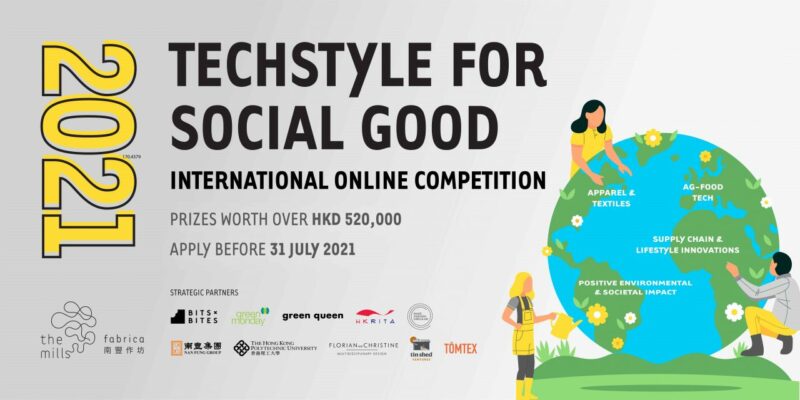 Mills Fabrica Techstyle for Social Good Competition 2021 (Up to HKD 525,000 in prizes)
Deadline: July 31, 2021
Do you have a techstyle (technology + lifestyle) innovation that can create positive environmental and social impact? Does it incorporate apparel/textiles or agrifood technology? If the answer is yes, enter the Techstyle for Social Good 2021 international online competition now!
Mills Fabrica is on the lookout for techstyle (technology + lifestyle) innovations with a special focus on apparel/textiles or agrifood tech that are making a positive impact on society + creating solutions for the greater good.
Apparel/Textiles innovation

Sustainable supply chain & production
Materials & products innovations
Sustainable platforms & circular models

Agrifood Tech

Supply chain incl. agritech, transparency, logistics, distribution and packaging
Alternative foods/ ingredients/ new food brands
New food retail – food apps, innovative kitchen and retail solutions
Prizes
Prizes worth over HKD 525,000 including cash prizes, enrolment onto an incubation program, mentorship sessions, hot desk + Fabrica Lab membership and access to Fabrica's community of startups, partners and industry events.
Eligibility
Individual and group entries with max. 5 members are welcome;
At least 1 team member must be current students or graduated in the last 3 years;
At least 1 team member must be available to participate in the final competition.
Selection Requirements
Contestants need to submit a portfolio which consist of:
250 Word Summary (1,600 characters in MS Word format):

Description of the rationale and concept

How is it matching the 3 judging criteria: innovation, impact to society, scalability

Presentation Deck (max. 15 slides in PDF format):

Visual evidence (i.e. photos, drawings, videos with embedded link, simulated models, and any other visual media)

Description of the project detail

The relevancy to the 3 judging criteria: innovation, impact to society, scalability

1 – 2 minutes video (video file in MP4 format):

Prototype/ simulated model/ rendering of design
Contestants must present the prototype or design themselves
Application
Fill in the form and upload your files (max. 20MB) with required formats on the submission platform
Rename all files to your project title: TFSG21_(project title)_deck/video
Finish submission by 31st July 2021, 23:59 hours Pacific Daylight Time (by 1st August 2021, 14:59 Hong Kong Time)
For more information, visit Techstyle for Social Good.