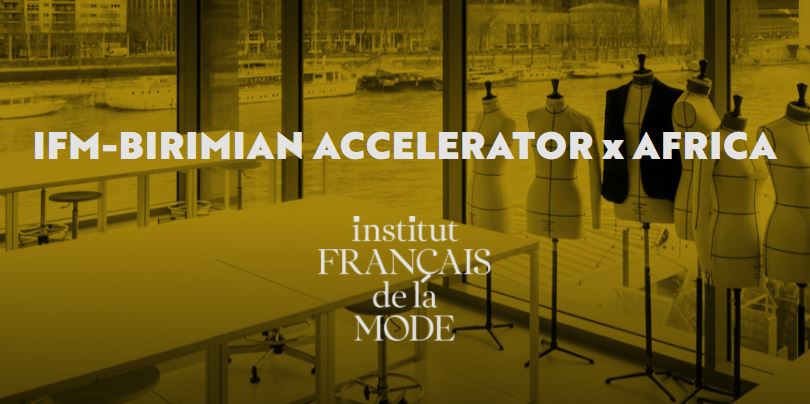 IFM-Birimian Accelerator x Africa 2021 for African Emerging Designers
Deadline: August 31, 2021
Applications are open for the IFM-Birimian Accelerator x Africa 2021. Birimian and the Institut Français de la Mode are supporting African emerging designers through a unique accelerator program for young creative brands based on the African continent or in the diaspora.
For the first edition, IFM-Birimian Accelerator x Africa will support 10 emerging designers selected for their talent, creativity, connection to the African heritage and capacity to upscale, with the expertise of a creative board composed of industry experts.
The selected designers and brands are offered personalized assistance, coaching advisory services for the development of their company by a dedicated team of professionals and industry experts, in the main areas of expertise required for a young creative company: brand identity, offer, distribution, production, image and communication, budget and financing.
Benefits
Formalization of the project's fundamentals (which are often intuitive), an in-depth study of these fundamentals to put them into perspective and better anticipate future stages of development. Benefits that are tailored to the profiles and skills associated with the labels:
The definition of the project and of its positioning, the structuring of collections, retail strategy, communication policy, financial monitoring.
Collection building, distribution, communication, financial resources and teams. To set up operational working tools such as collection planning, general sales conditions, treasury framework, communication framework.
To step back in order to gain perspective in relation to day-to-day pace and exchange with other designers/labels going through similar situations.
Elevation of international standards and strengthening of technical and operational competences through luxury and fashion experts mentoring.
Exposure to the international creative scene (supporting applications to prestigious and strategic prizes and collaboration opportunities).
A potential lead-in to preparing business plans/financing arrangements.
Potential investment from Birimian.
Eligibility
Open to a label with African roots and heritage that has existed for at least 3 seasons.
Have an annual sales figure of over USD $50,000 excluding tax and a positive result.
An early reputation established with influencers and tangible activity on social media.
If possible, having already established a team, tandem with a designer and another person in charge of sales, management.
Creative talent and drive to move forward.
Application
The call for applications closes on August 31, 2021. Each application will be reviewed by a creative board of industry experts.
For more information, visit IFM-Birimian Accelerator x Africa.