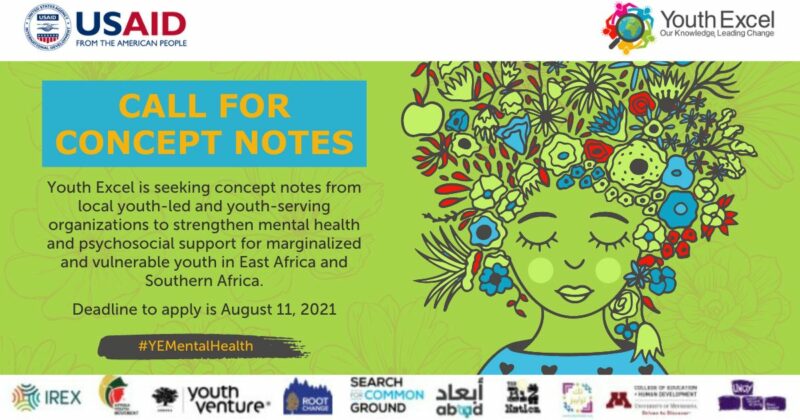 USAID Youth Excel: Our Knowledge Leading Change Program Grant Competition 2021 (Up to $75,000)
Deadline: August 11, 2021
Applications are open for the USAID Youth Excel: Our Knowledge Leading Change Program Grant Competition 2021. Youth Excel seeks concept notes from local youth-led and youth-serving organizations to strengthen mental health and psychosocial support for marginalized and vulnerable youth in East Africa and Southern Africa.
The USAID Youth Excel: Our Knowledge, Leading Change program is conducting the grant competition in six African countries. Grantees will test and adapt solutions for a cross-sectoral problem in a regional context through youth-led "research-for-change" approaches for positive youth development.
Grant
Grant is between $25,000 – $75,000. Applicants can propose the amount required for project implementation within this range. Cost share is not required.
Eligibility
Local youth-led and youth-serving organizations who meet the minimum criteria and share Youth Excel's objectives are eligible to apply.
Organizations led by or serving marginalized groups, which may include age, gender, disability, ethnicity, sexual orientation, and other identities, are encouraged to apply. The grant competition is not restricted to certain technical sectors or to research organizations.
Eligible Countries
Eswatini
Kenya
Malawi
Tanzania
Uganda
Zambia
Selection Criteria
The panel will rate concept notes on the following criteria:
Responsiveness: concept's approach and value for youth priorities related to the grant competition theme and region.
Feasibility: applicant's understanding of requirements and proven capacity to successfully implement the concept.
Impact: concept's potential to advance positive youth development outcomes and learning.
Protection: applicant's awareness of potential risks for participating youth and consideration of mitigation strategies.
Inclusion: applicant's commitment to diversity and inclusion (especially regarding work with and/or support to vulnerable or marginalized groups such as girls and women, youth with disabilities, youth from ethnic or religious minorities, and other identities).
Application
For more information, visit IREX/USAID Youth Excel Grant.