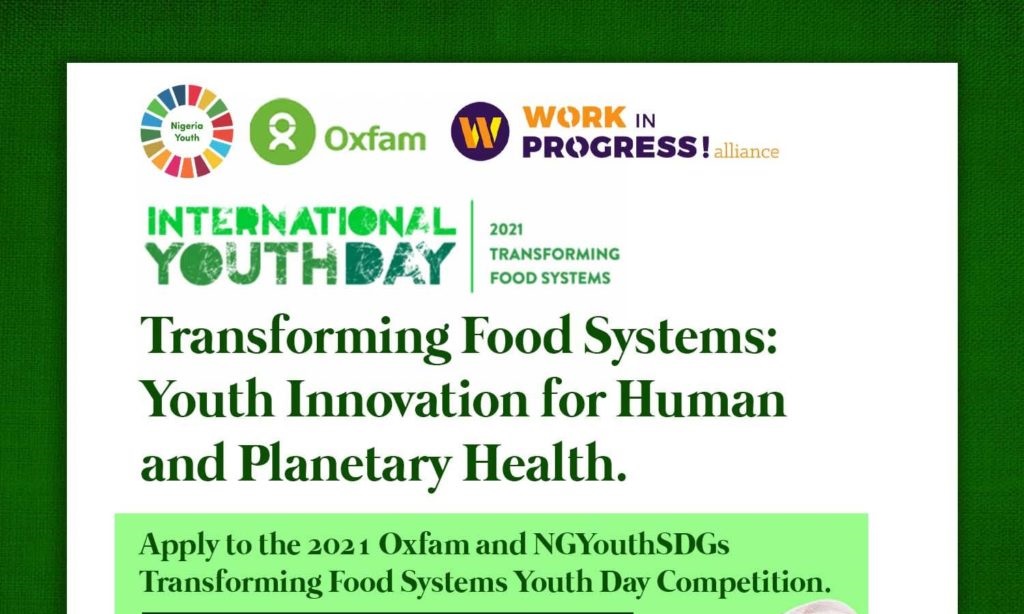 Oxfam Nigeria/NGYouthSDGs Food Systems Challenge 2021 (Win up to N600,000)
Deadline: August 5, 2021
Are you a young person passionate about agriculture, an agricultural expert, advocate and/or entrepreneur? Then apply to the Oxfam Nigeria's Work in Progress! and Nigeria Youth SDGs Network (NGYouthSDGs) Food Systems Challenge 2021 and stand a chance to win up to 600,000 Naira in cash prizes.
In commemoration of International Youth Day themed: Transforming Food Systems: Youth Innovation for Human and Planetary Health. NGYouthSDGs with support from Oxfam Nigeria's Work in Progress! are seeking for 20 agricultural experts, advocate and(or) entrepreneurs working in the intersection of food systems and technology in Nigeria through the Food Systems Challenge.
The selected individuals/organisation will go through a two-day training with leading agricultural technology experts to support their organizational growth as well as developing their idea for national and global markets.
Benefits
NGYouthSDGs will provide data reimbursement for all selected participants for the training.
At the end of the training, three of the organizations will be awarded grants in total of six hundred thousand Naira (N600,000) to boost their businesses.
Eligibility
Open to young people who are passionate about agriculture, agricultural experts, advocates and/or entrepreneurs;
Applicant must be a citizen of Nigeria, and resident in Nigeria.
Application
Complete the application form for the Oxfam in Nigeria and NGYouthSDGs Food Systems Challenge. The application deadline is August 5, 2021.
For more information, visit Food Systems Challenge.