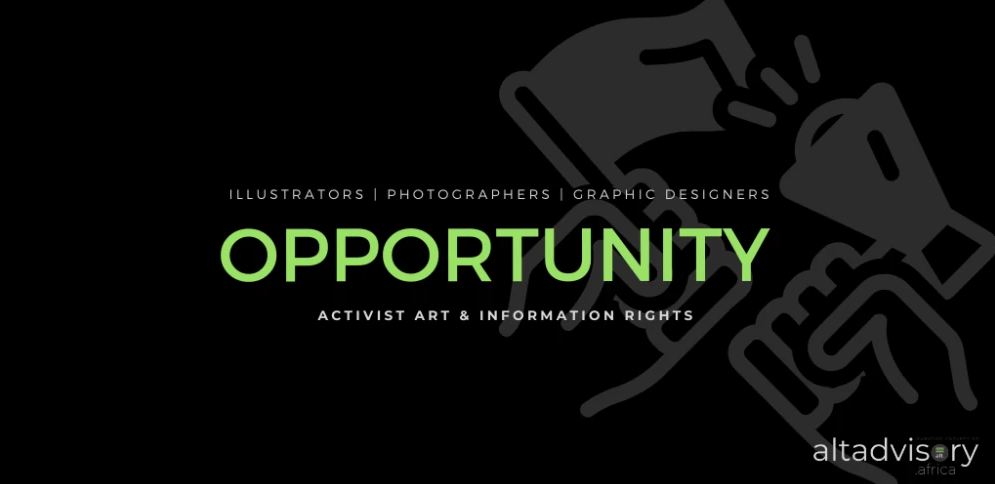 ALT Advisory is calling for Emerging Illustrators and Photojournalists in Africa
Deadline: October 29, 2021
Calling Illustrators and Photojournalists! ALT Advisory seeks to commission three emerging illustrators and/or photojournalists based in Africa to create digital artwork, photography, and other visual media based on themes related to information rights, such as data protection, freedom of expression online, digital privacy, and access to the internet.
This forms part of a new ALT Advisory Special Project to create open-source visual media about information rights, that promote these rights, inspire hope and/or activism, and contribute to representations of information rights that promote diversity and inclusivity.
ALT Advisory is a public interest advisory firm, based in Johannesburg, South Africa that focuses on public law, information rights, data privacy, emergent technology, and social innovation.
Illustrators
If commissioned under this Special Project, illustrators will receive a brief, and develop an initial concept before being commissioned to produce the final artworks.
The artwork should be provided in a variety of formats, suitable to being used in large (A2) posters, stickers, postcards and web images.
Photojournalists
If commissioned under this Special Project, photojournalists will receive an editorial brief to produce street/documentary photography relevant to the theme of information rights, in an urban or rural area in Africa.
Photographers will be expected to adhere to ethical guidelines in the South African Press Code of Ethics, and/or an equivalent press code in the country where they are based.
The images should be provided in a format that is suitable for editorial and journalistic purposes.
Benefits
Illustrators and/or photojournalists will be commissioned at a fixed rate of $500 per commission.
Eligibility
Open to emerging Illustrators and/or photojournalists;
Applicants must be based in Africa.
Application
To apply, please send a brief letter of motivation, and up to five examples of previous work, to [email protected] by Friday, 29 October 2021. For any clarity before the closing date, please e-mail [email protected]
Please include "Activist Art & Information Rights" in the subject line of the e-mail.
For more information, visit ALT Advisory.