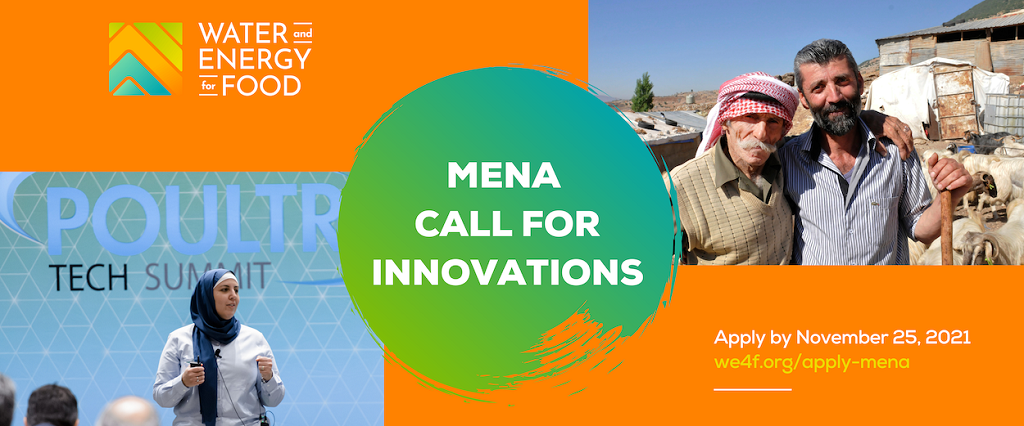 Water and Energy for Food (WE4F) MENA Regional Innovation Hub Call for Innovations
Deadline: November 25, 2021
The MENA Regional Innovation Hub is proud to announce the second Call for Innovations. The MENA Regional Innovation Hub (MENA RIH) supports innovative companies and organizations that work in the Middle East & North Africa and produce more food while using less water and energy.
Together with investors and partners, the MENA RIH works to scale mid-to-later stage enterprises that have an environmental and social impact in the water energy-food nexus. Through WE4F, innovators from the MENA region can access financial support totalling up to US $1 Million, technical support, and investment matching necessary to make food production and farming more sustainable, productive, and bountiful.
Benefits
Winners will be part of an extensive network and introduced to various partners, mentors, and service providers to help them achieve their expansion goals.
They will also have access to an exclusive learning community where they can exchange ideas with their cohort peers in the cohort and other Regional Innovation Hubs through regular workshops and meetings.
Receive support to expand the business to other geographies, products, or services
Attract and secure external investors by working with S/SEA RIH's Brokering Unit.
Examples of support categories:

Investment readiness
Commercial expansion
Marketing and communication
Digitalization and technology enhancement

Select organizations may qualify for grants to help achieve scaling goals, funding size ranges from $25,000 to $200,000 USD.
Eligibility
Open to legally incorporated/registered for-profit businesses and nonprofit organizations or academic institutions with a proven business model, recurring sales, an existing customer base, and the ability to generate revenue and maintain a self-sustaining operational budget.
Organizations/companies must be ready to scale. They encourage applications from small and medium-sized enterprises (SMEs).
The MENA RIH supports innovators from Algeria, Egypt, Iraq, Jordan, Lebanon, Morocco, Palestinian Territories, Sudan, Tunisia, and Yemen. Applicants must be legally registered in at least one of these countries. If expansion into a new country is a key part of an applicant's business plan, they must demonstrate that they already have partners in place in that country to be considered.
Application responses must be written in English, French or Arabic.
Applicants should be open and willing to contribute the matching funds to the overall award if a grant is awarded. The final amount of matching funds will be determined on a case-by-case basis for each applicant near the time of award.
Applicants' innovations must have a direct, tangible linkage to water-food, energy-food, or water-energy-food. In addition, innovations must directly or indirectly impact poverty reduction and gender equality and have a positive impact on the environment and avoid negative environmental effects.
Women-owned and women-led organizations are encouraged to apply.
Application
The deadline for submission is November 25, 2021, at 5:00 PM CET. They strongly encourage you to submit your application as soon as it is ready.
All applications must be submitted via the application portal. Submissions via email or any other medium will not be accepted.
For more information, visit WE4F.