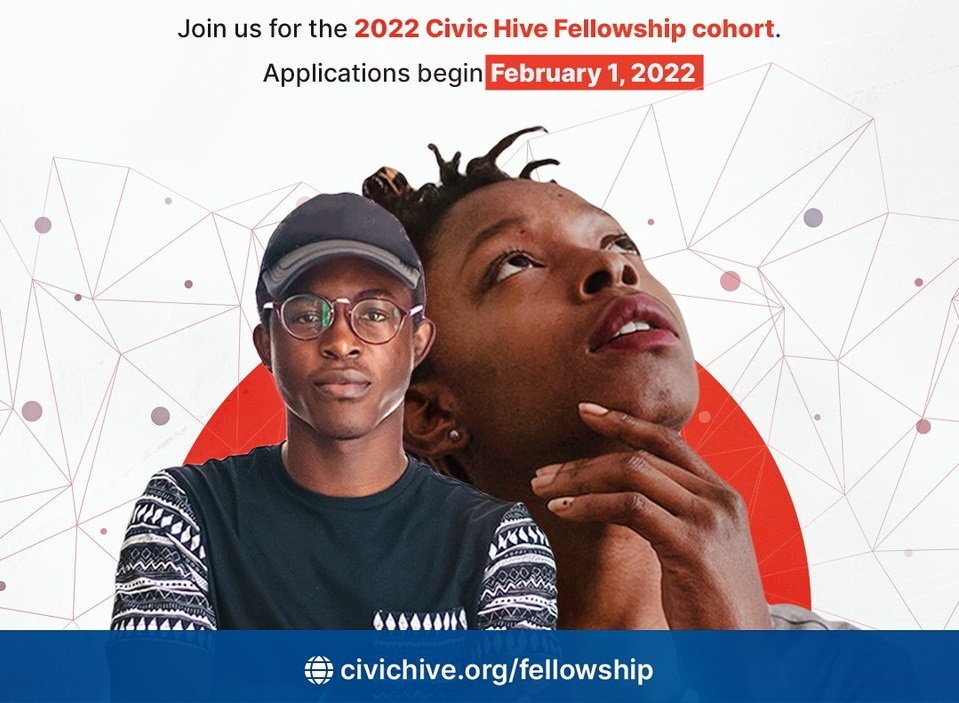 Civic Hive Innovation Fellowship 2022 for Civic-tech Gen Z Leaders in Nigeria
Deadline: February 28, 2022
Applications are open for the Civic Hive Innovation Fellowship 2022. The fellowship is a 20-week bootcamp and implementation program designed for early-stage Civic innovators with tech-enabled ideas that can solve social problems.
The incubation program will focus on bringing more players into the civic tech space. The Civic Hive project, under the fellowship program, seeks to raise a new set of civic tech leaders that transform governance. Civic Hive will put out a call for application for innovative civic ideas and solutions. Successful applicants will be taken through a series of training on financial, business, website, and social media management. The fellowship program will be sustained throughout the project to incubate 12 new innovative and creative solutions in the civic space.
Benefits
Fellows will be placed on a monthly stipend of N200,000 and provided a working space throughout the fellowship. 
The fellows will be given a platform to project their works, leveraging BudgIT's network to meet with prospective donors and mentors.
Eligibility
Open to early-stage Civic innovators with tech-enabled ideas that can solve social problems.
They look for solutions that advance transparency, accountability, and civic engagement in thematic sectors.
They will embrace different levels of ideas, irrespective of the scale – local or hyperlocal – and they will be open to the diverse use of technology  – radio, text, print, IoT, machine learning, artificial intelligence, or social media – as a channel.
Selection Criteria
They will also focus on the impact the ideas will have on the people and the civic spaces, the sustainability of ideas to deliver value, and the unrelenting spirit of the participants. 
Application
The deadline for application is February 28, 2022. The program will run from April to September 2022.
For more information, visit Civic Hive Fellowship.