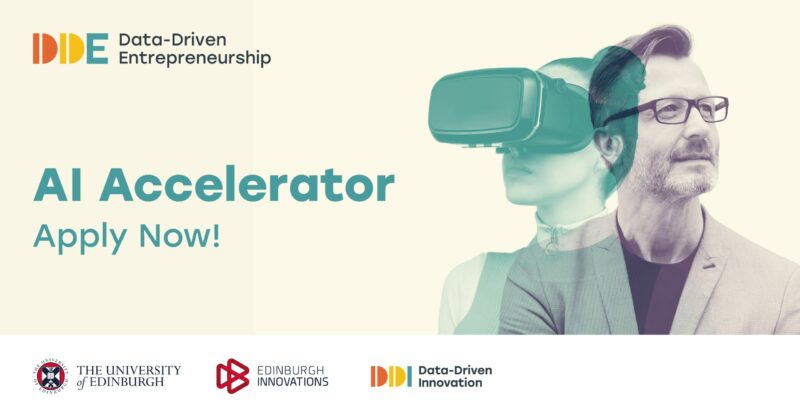 University of Edinburgh AI Accelerator 2022 for Data-driven Scaleups (£10k stipend)
Deadline: May 26, 2022
Applications are open for the University of Edinburgh AI Accelerator 2022. The AI Accelerator is delivered by The University of Edinburgh's world-leading innovation hub for Data Science and Artificial Intelligence, the Bayes Centre, as part of the Bayes Centre DDE Innovation and Edinburgh Innovations, the University of Edinburgh's commercialisation service.
It gives data-driven scaleups the opportunity to harness the power of AI and bring about transformative change. From AgriTech to FinTech, AI technology can bring efficiencies, create new propositions and disrupt markets. It can help save lives and the planet.
The Accelerator is delivered in partnership with Edinburgh strategic design consultancy NileHQ and supported by Huawei UK.
Thematic Areas
The next AI Accelerator program will be focused around 3 key themes:
AI for climate change
AI for global health
AI for good
Benefits
The successful companies will benefit from a tailored program for AI scaleups including:
Workshops and dedicated mentors to support you in developing a wide range of business skills from sales and marketing to financial planning.
Opportunities to connect with the University of Edinburgh's world leading academic expertise and student talent.
A stipend of between £5k and £10k per company with the chance to win additional funding (exact amount TBC).
Connections to investors as well as local and global networks.
Support from a dedicated program team, partners and supporters and your peers.
The opportunity to be a part of the Bayes Centre, the University of Edinburgh's innovation hub for data science and AI – including access to the centre's incredible facilities, office space for six months and its inspirational and collaborative data driven community.
Links with Edinburgh's Data-Driven Innovation hubs, including the National Robotarium, the Usher Institute for population data science, Edinburgh Futures Institute, Easter Bush and Edinburgh International Data Facility.
Eligibility
AI-focused entrepreneurs and businesses scaling up from across the UK and the world can apply to take part.
You do not need to be linked to the University of Edinburgh or based in the UK, but you will of course have an interest in engaging with the AI and data ecosystem in Scotland.
They are looking for scaleups, so you will need to be an incorporated company, ideally post-revenue having already attracted some funding and with fully dedicated founders. However there are no hard limits here; bootstrappers and pre-revenue companies are also welcome to apply, and may be selected if they can demonstrate growth potential.
Application
The AI Accelerator is hosted both online and through face-to-face sessions. It is delivered by the University of Edinburgh's Data Science and AI innovation and enterprise hub – Bayes Centre – on behalf of all the Data-Driven Innovation hubs.
The next AI Accelerator program will run from September 2022 to March 2023.
For more information, visit AI Accelerator.