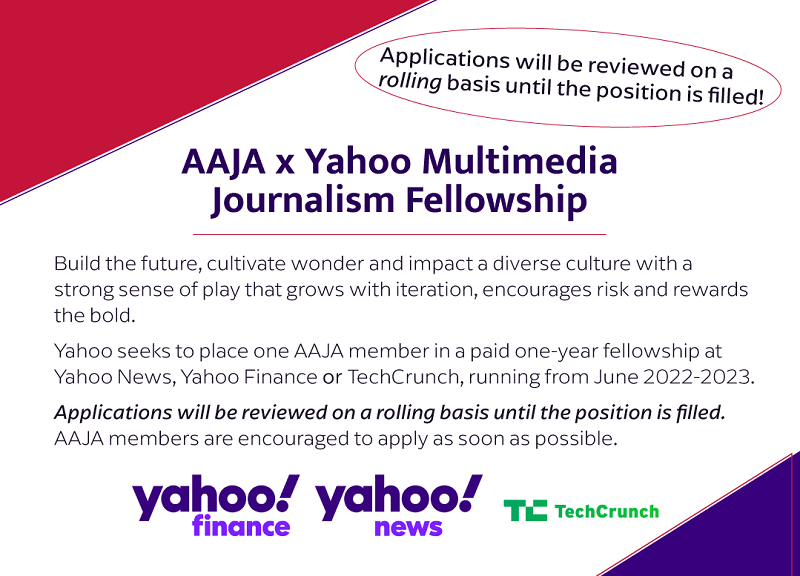 AAJA/Yahoo Multimedia Journalism Fellowship 2022
Deadline: April 29, 2022
AAJA is excited to announce the Asian American Journalists Association (AAJA)/Yahoo Multimedia Journalism Fellowship 2022. Your mission as a fellow: Build the future, cultivate wonder and impact a diverse culture with a strong sense of play that grows with iteration, encourages risk and rewards the bold.
As a Yahoo Multimedia Journalism Fellow, you'll get to work with one of Yahoo's major editorial brands over a one year period. You will also get the opportunity to explore a wide range of topics and learn new perspectives from seasoned journalists and producers building Yahoo's presence on a range of platforms, including our homepages and social media.
Program Details
Yahoo is looking to place an AAJA fellow with Yahoo News, Yahoo Finance or TechCrunch. This program will kick off in New York, Los Angeles, San Francisco and potentially a few other major locations, including your home. The fellowship program will run from June 6, 2022 through June 2, 2023. 
This is a paid fellowship opportunity, with a salary to be commensurate with fellows' respective experience and qualifications. The position is a one-year contract as a fixed-term employee, with the possibility and hope for promotion to full-time hiring after the conclusion of the fellowship.
Eligibility
In order to be considered, all applicants must be active members in good standing. Non members can apply but would have to become members in order to begin the fellowship. Join AAJA here.
Approximately 3-7 years of professional work experience.
Excellent verbal and written communication skills.
Professional and adaptable in a fast-paced, innovative technology environment.
Application
All applications require a cover letter, resume and work samples. Applicants may apply to more than one platform. Applications will be accepted on a rolling basis, over the course of seven weeks. If the Yahoo team is interested, they will reach out to conduct interviews. A new hire will be made by April 29, when the application closes.
For more specific qualifications, refer to the Fellowship Descriptions for each role: 
For more information, visit AAJA x Yahoo Fellowship.