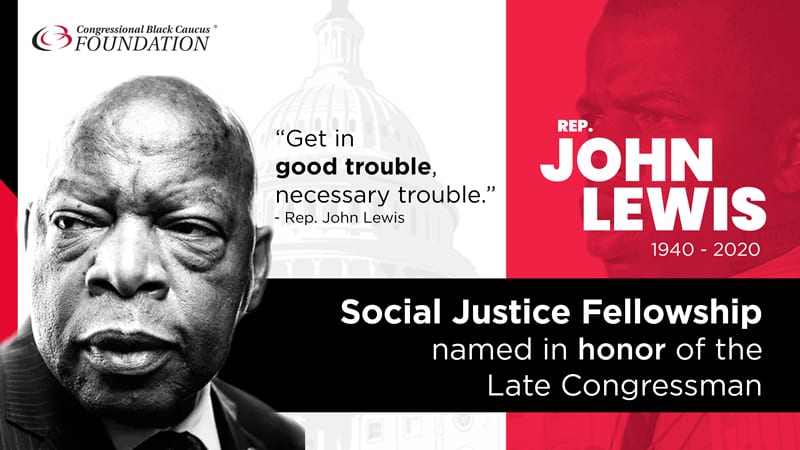 NREI John R. Lewis Social Justice Policy Fellowship Program 2022 (Paid position)
Deadline: May 6, 2022
Applications are open for the NREI John R. Lewis Social Justice Policy Fellowship Program 2022. The NREI John R. Lewis Social Justice Policy Fellowship is a Congressional Black Caucus Foundation, Inc. (CBCF) program designed to give young, Black professionals the opportunity to work in Congress and with the Foundation to address social justice and racial equity issues that affect the Black community.
Distinguished by two six-month rotations, Social Justice Fellows will be placed in the U.S. Congress with Congressional Black Caucus members and the CBCF's Center for Policy Analysis and Research (CPAR) for a total of 12 months. Fellows will produce social justice policy research and analysis on topics that include, but not limited to, criminal justice reform, education, community/economic development, health equity, and civil rights. While working in Congressional Black Caucus member offices, Fellows will gain invaluable legislative experience as they engage in the development of public policy initiatives, attend briefings, conduct research, write speeches, and develop rapport with key leaders all in the areas of social justice.
In the Center for Policy Analysis and Research, Fellows will work under the National Racial Equity Initiative for Social Justice (NREI) Director and in cooperation with other stakeholders to conduct policy analysis, research, and data collection with the goal to disseminate research findings and relevant information to advance NREI's mission. Fellows during their term may also organize social justice forums and brain trusts, serve as an expert in their field, and produce issue briefs, fact sheets and other publications related to social justice.
Fellowship Components
Fellows will remain in the fellowship for a 12-month period and participate in the following programming components:
Work experience in Washington, D.C. (CBCF reserves the right to host the Fellowship in a virtual format depending on the status of the COVID-19 pandemic)
Attend a one-week orientation
6-Month Rotation Placement in the U.S. Congress and the CBFC's Center for Policy Analysis and Research, maintaining a forty (40) hours a week schedule
Complete an issue brief for publication on the CBCF website or article for the CPAR Journal
Participate in monthly Professional Development Sessions
Benefits
CBCF Congressional Fellows receive a full salary and benefits for the duration of the program.
As part of their new partnership with Air BnB, Fellows who take part in the Fall 2022 Congressional and John R. Lewis NREI Social Justice Fellowships will receive two months of transitional housing prior to their official move to Washington, DC. Details will follow pending applicant acceptance.
Eligibility
Applicants must have COVID Vaccination;
U.S. citizenship or a permit to work in the U.S. for the duration of the program (currently September 2022 through September 2023);
At least five years of community activism or grassroots organizing in a leadership position OR a graduate/professional degree completed prior to the fellowship start date;
Familiarity with the federal legislative process, the U.S. Congress, the Congressional Black Caucus, and its members, and related policy;
Superior analytical skills, outstanding oral and written communication skills;
Demonstrated commitment to social justice either through public policy, professional experience, or community-related activism aimed at improving the living conditions for the African American community.
Application
The completed online application must be submitted by 11:59PM EST, May 6, 2022. The following items will be requested through the online application:
2 Essay Question Responses
NREI Social Justice Essay Prompts

Essay 1: You are working in the office of a congressional member as a subject matter expert in your respective profession. Draft a memo to your congressional member discussing three policy areas that you deem most critical to the advancement of the Black community, and why your representative should prioritize these items on his/her agenda, and how s/he can create awareness on these issues. Be sure to cite your sources. [1,000 words maximum]
Essay 2: Choose a social justice policy issue (i.e., criminal justice reform, Black maternal health, school-to prison pipeline, public education, or racial discrimination in the workplace) you find most relevant to the Black community in the last three congressional sessions. Discuss the status of the legislation, the key members involved with the issue, and the potential or current effects of the legislation on the Black community. Be sure to cite your sources. [1,000 words maximum]

2 letters of recommendation, submitted electronically (hard copy letters will not be accepted)
Resume listing extracurricular activities, honors, employment, community service, and special skills (2-page limit)
Cover letter discussing the applicant's academic and professional background, and explaining the applicant's interest in the fellowship, how the fellowship fits into the applicant's career plans, and any experience that would make the applicant highly effective in this position (2- page limit)
A recent photograph suitable for publication (i.e., a graduation photo or other professional-quality photograph in which the subject is formally dressed)
For more information, visit Social Justice Policy Fellowship.