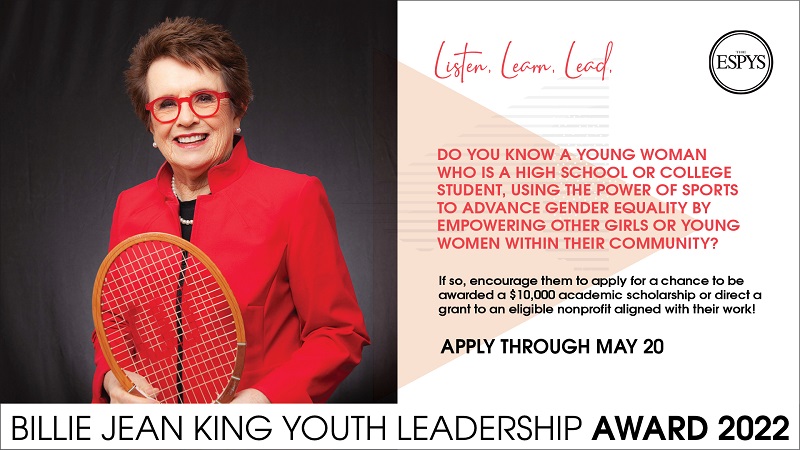 Billie Jean King Youth Leadership Award 2022 for U.S. Citizens ($10,000 Scholarship)
Deadline: May 20, 2022
Applications are open for the Billie Jean King Youth Leadership Award 2022. As part of the 2022 ESPYS, ESPN's Billie Jean King Youth Leadership Award will once again celebrate the legendary sports icon's commitment to leadership and service, while honoring high school and college-aged students who, like Billie Jean King, use the power of sports to improve their communities. Honorees of the Award — which was created in 2019 — will be recognized during the televised special in mid-July.
This year marks the 50th anniversary of Title IX, which prohibits sex discrimination in all federally funded school or other education programs, including sports. The law opened doors and removed barriers for girls and women. The ground-breaking gender equity law made a lasting impact by increasing the participation of girls and women in athletics. Since Title IX's passage, female participation at the high school level has grown by 1057% and by 614% at the college level.
In celebration of the 50th anniversary of Title IX this year, ESPN will recognize five young women who are using the power of sports to improve their communities by advancing gender equality through the Billie Jean King Youth Leadership Award.
Award
Honorees will
Be honored during the ESPYS, joining the incredible winners and honorees of other prestigious awards, including the Muhammad Ali Sports Humanitarian Award.
Receive either a one-time $10,000 college scholarship or direct a grant to an eligible nonprofit aligned with their work.
Participate in experiential learning and development programs over the next year to receive mentoring and leadership coaching, while engaging with senior leaders in the sport industry and attending sport-for-development workshops.
Meet and learn from tennis legend and social activist, Billie Jean King.
Join the award's alumni program — a powerful network of young leaders using the power of sports to create social good in their communities.
Eligibility
Be a U.S. Citizen, U.S. national or permanent resident.
Identify as a girl or a young woman.
Be under 25 years of age.
If being considered for a scholarship, the nominee must be a student who has a demonstrated financial need as verified by their college or university, and must hold a minimum 2.5 GPA on a 4.0 scale.
For academic scholarships, applicant must be a rising High School Senior or current College Freshman, Sophomore, or Junior attending an accredited 4-year college or university.
For a donation to an eligible nonprofit, applicant can be a High School Freshman, Sophomore, Junior or Senior or current College Freshman, Sophomore, Junior or Senior.
Selection Criteria
Successful Applicants will
Demonstrate how she/they use the power of sport as a catalyst for change within her/their local school or community. This means that she/they intentionally use(s) sport to change the way people think, how they feel and compels them to act.
Deliver social impact showcasing how her/their community has been positively impacted. This cannot be just participating in an existing program owned by a nonprofit, but about how the nominee is going above and beyond with her/their contribution and her/their work being unique.
Be passionate about advancing gender equality and demonstrate what she/they did to advance gender equality in her/their community.
Be passionate and committed to empowering the community in which she/they live.
Embody confidence and enthusiasm as a leader and have strong moral character.
Personify exemplary leadership qualities on and off the field.
Application
Applications are due by Friday, May 20 at 11:59 p.m. ET. Late applications will not be considered.
For more information, visit Billie Jean King Youth Leadership Award.