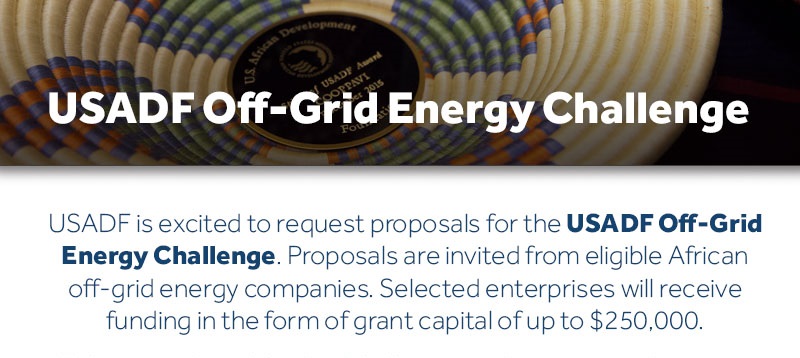 Call for Proposals: USADF Off-Grid Energy Challenge 2022 (up to $250,000)
Deadline: September 30, 2022
Applications are open for the U.S. African Development Foundation (USADF) Off-Grid Energy Challenge 2022. The Off-Grid Energy Challenge is a key element of the Beyond the Grid sub initiative of Power Africa, a U.S. Government-led partnership launched in 2013 to double access to electricity in sub-Saharan Africa by 2030 by increasing installed power capacity by 30,000 MW and creating 60 million new connections.
The Off-Grid Energy Challenge is designed to achieve the following results:
To increase electric power generation to unserved and underserved African communities through sustainable business model solutions.
To expand energy access through off-grid solutions such as home systems and micro- or mini-grids.
To increase access to electricity for household and productive uses – while this may include power to meet household consumer needs, emphasis is given to the delivery of power to productive commercial and industrial activities including agricultural production and processing, commercial enterprises, industrial enterprises, healthcare facilities and others.
To increase women participation in the energy sector by supporting women-owned and managed energy enterprise.
Benefits
Winning applicants will receive:
Grant capital up to $250,000 from USADF
Access to intensive local technical assistance and governance support
Eligibility
USADF will consider proposals from 100% African-owned and managed companies. Passports or other government-issued IDs of all owners and senior managers must be submitted with the applications. If the applying entity is owned wholly or in part by another entity, passports or other government-issues IDs of its owners must also be provided.
The applying entity must be a for-profit enterprise and must not be government owned, operated, or affiliated in any way.
Applicants may be developers of their own technology and/or may be acquiring and implementing technology developed elsewhere.
Applicants need to be legally registered in Africa and demonstrate the capacity to track and manage the project resources and operate in good standing with the local governments in which they operate.
Application
Applicants must submit the completed application template, as well as all required attachments, on or before September 30, 2022. 
For more information, visit USADF Off-Grid Energy Challenge.