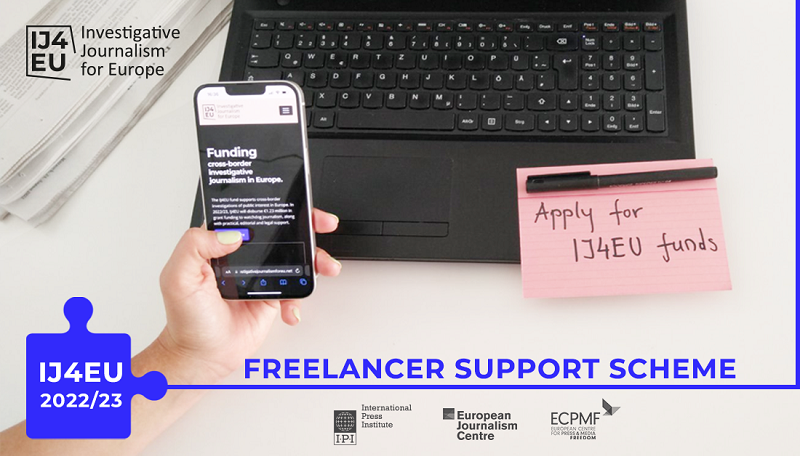 Investigative Journalism for Europe (IJ4EU) Freelancer Support Scheme 2022/2023 (up to €20,000)
Deadline: October 13, 2022
Applications for the Investigative Journalism for Europe (IJ4EU) Freelancer Support Scheme 2022/2023 are now open. IJ4EU's Freelancer Support Scheme provides grants to cross-border teams made up entirely of freelancers and who can benefit from an extra layer of tailored support.
Managed by the European Journalism Centre (EJC), the scheme is designed to support journalists operating outside of newsroom structures who may be underserved by other journalism support schemes and/or who are significantly impacted by the COVID-19 crisis or other pressures, including war in Ukraine, yet who are nonetheless willing and able to collaborate with others to launch investigations of importance to audiences at a local, national, regional and European level.
Benefits
Grants of up to €20,000 plus an extra cushion of tailored assistance including training, mentoring and networking opportunities.
Eligibility
To be eligible for the Freelancer Support Scheme, applications must be submitted by teams composed entirely of freelance journalists that meet the following criteria:
They must be based in at least two EU member states, OR…
They must be based in at least one EU member state and at least one official EU candidate country (Albania, Moldova, Montenegro, North Macedonia, Serbia, Turkey or Ukraine).
Third-country team members from further afield are welcome to take part, but they must be part of teams that fulfil the core geographical criteria described above. In other words, they must be part of teams with members based in at least two EU member states or at least one EU member state and one EU candidate country.
Note that unlike in previous editions of IJ4EU, journalists based in the United Kingdom will no longer be treated as equivalent to their counterparts in EU member states. The United Kingdom is now treated the same as any other third country. 
In addition:
Teams must collaborate on a topic of cross-border relevance, and
They must be signed up to a press regulator, journalists' union, trust initiative, or part of a press association, or have current CVs/online portfolios that demonstrate relevant qualifications or a history of working with trusted news organisations.
Selection Criteria
The jury's decision takes account of, but not necessarily confines itself to, the following criteria:
Cross-border relevance
Relevance of topic to European and local public
Newsworthiness and added value
The extent to which projects help the EJC successfully meet the IJ4EU objectives, mission and purpose and create long-term impact after completion of the IJ4EU project
Strength of research and publication plan
Expected impact and/or reach of the project
Feasibility of project within project timeline and budget
Applicants' experience and journalistic credentials
Adequate risk assessment
The urgency of financial need or other assistance
In addition, the guidelines instruct the jury to consider the overall package of grantees with a view toward ensuring:
Geographical balance
Thematic balance
Balance among types of investigative teams
Attention is paid to underreported topics as well as investigative topics affecting local communities.
Application
Applicants are required to provide in the application form information about their project and the team working on it, including:
A brief description of the proposed project, topic and the objective(s) of the investigation, highlighting its cross-border relevance, public relevance and what new knowledge and information it will provide;
A publication plan, describing the expected timeline for the investigation and the media outlets or platforms in which the project will be published, and the expected publication date(s);
The main risks associated with the completion of the project and how the team plans to mitigate against these risks, including risks related to potential mobility and travel restrictions due to COVID-19; 
A budget (in EUR). The budget should be based on this model budget. The budget does not need to specify in detail items that need to remain confidential during an investigation.
Applicants are also strongly encouraged to provide with their applications:
Letters of intent from at least two independent news outlets based in two different EU member states or at least one EU member state and one EU candidate country or Ukraine.
For more information, visit Freelancer Support Scheme.