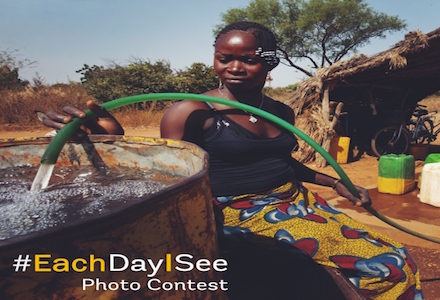 World Bank's #EachDayISee Photo Contest on Instagram
Deadline: February 13, 2015
World Bank invites global citizens to submit entries for its 2015 #EachDayISee Instagram contest. No matter where in the world you live, you see and experience things every day that make you think; that upset or inspire you; that you wish were different; or that give you hope. Instead of walking past, ignoring, or pretending there's not an issue, World Bank want you to capture an image and share it to help raise awareness of the issues where you live.
How to Enter
Take a photo of something you want to draw attention to and share it on Instagram. The photo must be original (our own work).
Describe what you see, where the photo was taken, and why it means something to you in the caption. Include the hashtag #EachDayISee.
Set your Instagram account to "public" to have your likes counted.
Use Facebook, Twitter, Google+, LinkedIn, and your other social channels to amplify your Instagram post in order to get the most likes. Don't forget to use the hashtag #EachDayISee.
The 20 photos with the most likes on their Instagram photos (sorry, likes, favorites, and +1s on other social networks don't count) will be selected as finalists.
Each finalist photo posted to World Bank Instagram will be open for voting. Regram and share your photo from the World Bank Instagram page to your networks on Twitter, Facebook and Google+ to encourage likes.
The users who submitted the top five-liked photos will receive the hard copy photo book.
Benefits
Finalist photos will:
Be featured on World Bank Instagram page.
Be featured in a photo album on the World Bank Facebook page.
Be publicly projected at World Bank headquarters in Washington, DC during the World Bank Spring Meetings in April 2015.
Be included in a hard cover premium photo book.
Note: Only Photos posted from January 12 – February 13 will be counted. Final counting for likes will be completed on February 20, and finalists will be selected and posted to the World Bank Instagram channel on (or during the week of) February 23.
For more information, visit  WorldBank #EachDayIsee.