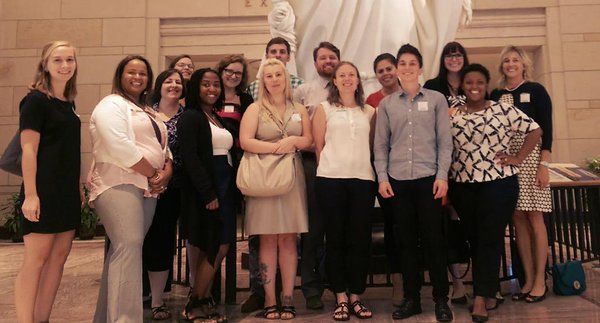 U.S. Policy Communication Training Program 2016-17 – Washington DC, USA
Deadline: February 28, 2016
The Population Reference Bureau (PRB) is now accepting applications for its 2016-2017 U.S. Policy Communication Training Program. The U.S. Policy Communication Training Program builds on PRB's 40-year legacy of training researchers to bridge the gap between research findings and the policy development process. It prepares researchers to influence policy making through effective communication.
Program Information
The goals of the U.S. Policy Communication Training Program are:
To understand the process by which research informs the policy environment.
To learn various ways to communicate findings to U.S. policy audiences.
To improve participants' ability to communicate in written and verbal formats.
The program has two components:
Washington Workshop: Participants will attend a week-long workshop at PRB in Washington, D.C., scheduled for June 19 – June 28, 2016. This workshop focuses on the role of research in the U.S. policy process, and on techniques for effective communication of research findings to U.S. decision makers, media, and nontechnical audiences.
Practicum: During the 2016-2017 academic year, participants will apply the lessons learned at the Washington workshop to prepare two policy communication materials (policy briefs, blogs, or op-eds) based on their dissertations or related research topics. During the year, participants will receive feedback from PRB staff on their work. Upon completion of the two policy communication assignments, participants become eligible to apply for a travel stipend to present at a policy-oriented meeting or conference.
The program is funded by the U.S. Department of Health and Human Services – National Institutes of Health (NIH) and Eunice Kennedy Shriver National Institute of Child Health and Human Development (NICHD).
Benefits and Cost
The organizers will pay participant expenses including: travel to and from Washington, D.C.; hotel; food; and related expenses during the week-long, in-person training period.
Eligibility
All participants must U.S. citizens and permanent residents pursuing doctoral programs at reputable U.S. academic institutions and who are affiliated with a population center (www.popcenters.org) and who are in their 3rd to 5th year of studies, and affiliated with a population center.
Applicants may be in any field of study, but their research focus must be related to demography, health and productivity at the population level, or social and behavioral research on reproductive health.
Application
Applicants must submit the following to PRB:
A completed application form.
A recent resume with a full list of educational and other professional activities.
Short essay responses to prompts.
Two letters of reference sent directly from the person writing the reference.  Letters of reference must be emailed directly to [email protected].
To apply, click "Make Submission" below. If you have questions or need assistance completing the application, please contact Hanna Christianson at [email protected]
The training program awards will be announced in April 2016.
For more information, visit US Policy Communication Training.