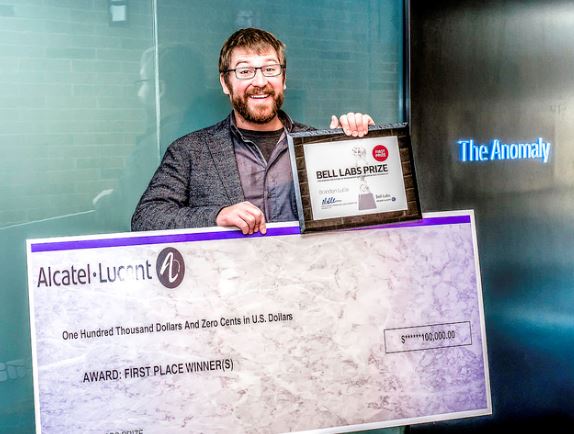 Win the Bell Labs Prize 2016 – Up to $100K Cash Prize!
Deadline: April 20, 2016
The Bell Labs Prize is a competition for innovators from participating countries around the globe that seeks to recognize proposals that 'change the game' in the field of information and communications technologies by a factor of 10, and provides selected innovators the unique opportunity to collaborate with Bell Labs researchers to help realize their vision.
The prize seeks game-changing and impactful ideas that have the potential to change the way we live, work and communicate with each other. It is divided into two stages.
Stage 1 Call for Proposals
After registering on the website, you will have access to an application form where you will have the opportunity to provide the details of your idea. You will be asked to write a short description (max 250 words) and will have the option to attach a maximum of 3 explanatory pages.
Stage 2: Proposal Submission for Finalist 
In the second stage, 10 finalists will be selected to compete for the 3 prizes at an event scheduled in the late Autumn, in front of a panel of renowned experts and industry leaders.
Prize
First Prize: $100,000;
Second Prize: $50,000;
Third Prize: $25,000.
Eligibility
Open to all eligible applicants who register and submit proposals in the general areas of information and communications technologies;
Applicants who register have to acknowledge that they have read, understood, and agree to the Terms and Conditions;
If there are applicant wants to include team members then all team members have to register and accept the Terms and Conditions. Only four members per team are allowed;
Applicants who advance to stage two have a more detailed agreement to fulfill because they may be exchanging intellectual property with Bell Labs in the process of application.
Evaluation Criteria
Ideas will be evaluated by Bell Labs researchers based on the following 3 criteria:
Innovation – What elements of your proposal are novel, have never been done before, and represent "out of the box" thinking?
Technical Excellence – Does your proposal have a significant scientific impact? How does it advance the state-of-the-art in technology?
Feasibility – Is the proposal feasible in terms of cost, time frame, resource requirements, complexity, implementation-risk, and feasibility of collaboration with a Bell Labs researcher?
The 10 finalists who will present to the Judging Panel will also be evaluated on a 4th criterion:
Business Impact – Does your proposal create new business opportunities? Does it show alignment and relevance to Alcatel-Lucent's activities? This criterion focuses on the commercial potential of your proposal.
Application Process
For more information, read FAQs or visit Bell Labs Prize.