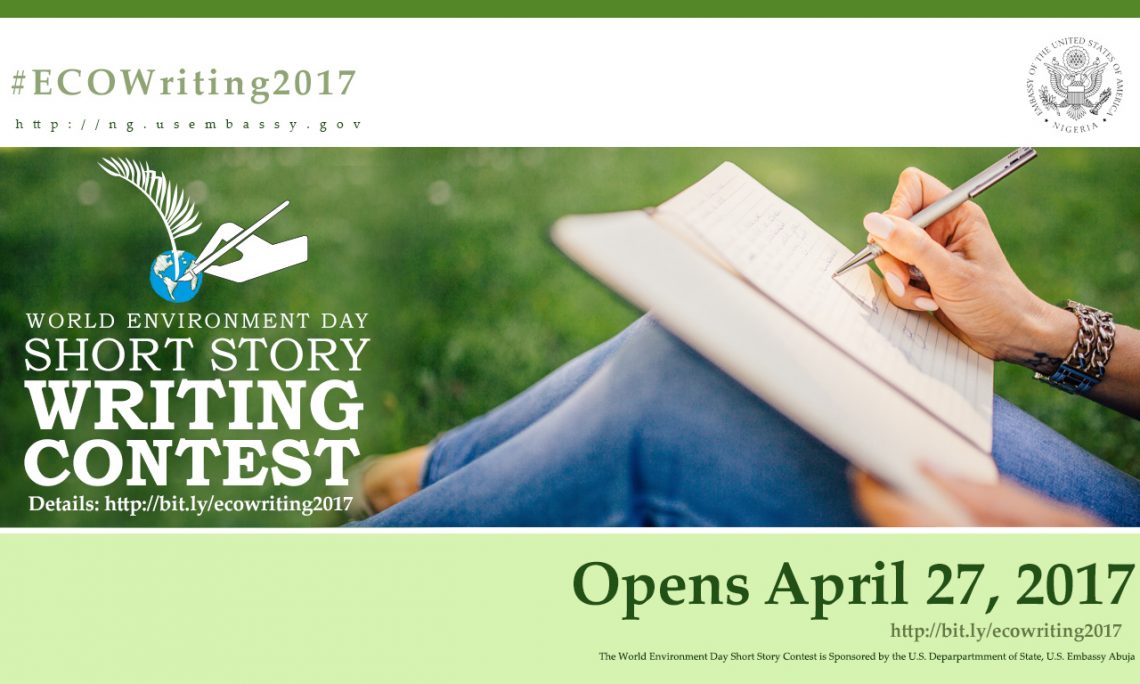 World Environment Day Short Story Writing Contest 2017
Deadline: May 26, 2017
Are you a young Nigerian with passion for the environment? Would you like to share your thoughts on the environment and on the theme "Connecting People to Nature" with the public? This is your chance to do so! Submit your entry for the World Environment Day Short Story Writing Contest 2017. The World Environment Day Short Story Writing Contest is sponsored by the U.S. Department of State, U.S. Embassy Abuja. The purpose of the contest is to promote environmental awareness and literacy.
Prizes
The first prize winner will receive a Kindle device with one year internet subscription on a network with nationwide coverage, a 24-month Kindle Unlimited Subscription, and the story, in whole or in part, will be published in an upcoming edition of the U.S. Mission quarterly publication, "Crossroads."
The second prize winner will receive a 24-month Kindle Unlimited subscription and the story will be published on the U.S. Embassy Nigeria website;
The third prize winner will receive a 12-month Kindle Unlimited Subscritption and the story will be featured on the U.S. Embassy Nigeria website;
Winners have to confirm the acceptance of the prize in an email reply within three calendar days. If the acceptance is not confirmed by the required date, the Contest Sponsors reserve the right to select an alternative winner. Each winner must provide a valid physical mailing address where a prize, if any, is to be shipped. Contest Sponsors are not responsible for any problems related to the shipping of any prize, including, but not limited to, theft, delay, damage, or destruction/accidental loss by the shipping carrier;
Any unused portion of the prize is not transferable, convertible, or exchangeable and cannot be taken as cash. All taxes on or in connection with any prize, and the reporting consequences thereof, are the sole and exclusive responsibility of the winner.
Eligibility
Contestants must be at least 18-35 years old on the date of entry into the contest. Contestants must be residents of Nigeria and may not be U.S. citizens or lawful permanent residents;
The individual submitting the entry will be considered the contestant and will be the only individual eligible to compete for the prize. Organizations are not eligible to compete for the prize, either as an entity, or through representation by an individual. In order to be eligible for the prize, the contestant must provide complete and accurate information;
The following individuals are not eligible to participate in the contest: Employees, interns, directors, and officers of the U.S. Government; or any employees, interns, directors, officers of any agencies, companies or entities involved in the administration, advertising, judging, creation, development, execution, and/or fulfillment of the contest, and the immediate family members (defined as spouse, recognized partner, parent, child, sibling, and spouse or "step" of each) and those living in the same household of each such individual;
Once a submission has been accepted for entry into the contest, the contestant's name (or User ID, if the contestants wishes to remain anonymous) and country may be publicly identified at the sole discretion of the contestants.
Submission Requirements
Submissions must not contain obscenity, explicit sexual material, nudity, profanity, graphic violence, calls or incitement to violence, commercial solicitation or commercial promotion. Submissions must conform to local law and must not contain content or images that could be considered abusive, inflammatory, denigrating, or disrespectful to any of the Contest Sponsors, or to any groups, individuals or institutions. Submissions must adhere both in appearance and in fact to the norms of civil discourse. In other words, the content of all submissions must be suitable for a global, public audience.
Submissions must be original content created by the contestant and must not contain any elements that are protected by someone else's copyright or otherwise subject to third party intellectual property or proprietary rights, including privacy and publicity rights (except as expressly permitted below in (d)). Contest Sponsors recognize no allowance for "fair use" of copyrighted material, nor do Contest Sponsors recognize allowance for use of licensed materials created or owned by a third party.
Contest Sponsors reserve the right to disqualify, at their sole and absolute discretion, any submission that does not adhere to these criteria and to the intent and substance of these Official Contest Rules.
In the event of any question or difference of views regarding compliance with, interpretation, or application of these content requirements or other provisions of these Official Contest Rules, Contest Sponsors reserve the exclusive right to resolve such questions or differences of views in their sole discretion.
Application Process
To enter the contest, submit your original short story of 1500-3500 words on the theme of "Connecting People to Nature" to [email protected] using the subject "[Name of author] Short Story Contest Submission."
Stories without a title will not be reviewed. All submissions should include the author's email and telephone number and date of birth in the body of the email.  All entries must be in Microsoft Word format.
Participation in the contest is deemed as acceptance of these Official Contest Rules. Once an entry is submitted, it is considered a final submission and may not be modified, edited or replaced.
The contest commences on April 27, 2017 at 8:00am WAT.  Entries may be submitted between April 27, 2017, and May 26, 2017 12:00 pm (noon) WAT. Judging begins on May 29, 2017 and ends on June 2, 2017.
For more information, visit World Environment Day Short Story Writing Contest.