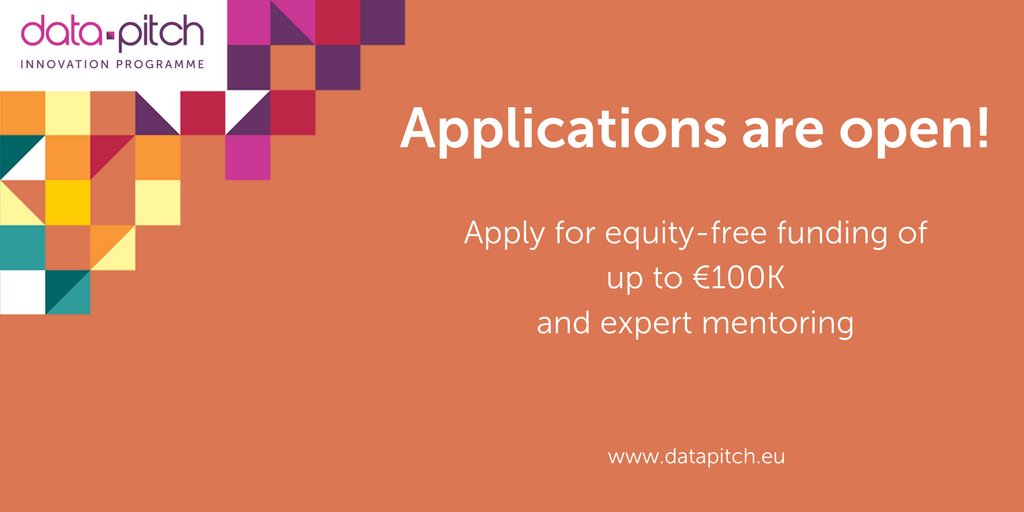 Data Pitch Innovation Programme 2017 (Up to €100,000 for SMEs)
Deadline: October 1, 2017
Data Pitch ​is a EU-funded open innovation programme bringing together corporate and public-sector organisations that have data with startups and SMEs that work with data. It is centred around a competition with several tracks, which describe challenges set by the data-provisioning organisations, and an accelerator programme (6 months) to help startups and SMEs develop solutions to meet these challenges. The startups and SMEs will put forward proposals for creating high impact, innovative products and services in response to the challenges defined by Data Pitch.
There are 12 different challenges in three different tracks:
Data Provider Challenges: These challenges are set by data providers and the solutions for these challenges will need to use the datasets provided by data providers. You can include other data sets in your solution as long as the data providers dataset is incorporated and the solution addresses the specific problem of the challenge.
Sector Challenges: These challenges are more general and can be solved with a combination of closed, shared and open data. You need to state the data that you are using in your application and verify that you have access to it.
Open Innovation Challenge: This challenge welcomes any other innovative data companies who have access to shared data and would like to suggest a solution.
Benefits
Startups and SMEs will receive funding and support for their data-centric business idea, including:
Investment up to €100,000, equity free;

Introduction to investors;

Six-month business accelerator with the help of the Open Data Institute (ODI) and 

Beta-i;

Introduction to business partners sharing data via Data Pitch;

Peer-networking and support via meetups in major European cities;

Access to technology and datasets, as well as training and advice by Data Pitch 

experts.
Eligibility
The applicant must be an SME;

The applicant must be legally established and working in the EU-28 countries or in 

the Horizon 2020 associated countries;

The applicant must be registered with the European Commission as an SME at the 

time of submission;

The applicant must be working as an individual company – no consortia will be 

permitted;

The applicant must target one track and challenge, and propose a solution to that 

challenge, following the instructions laid out in the challenge text.
Application
Select the challenge that you are applying for;
Fill in the basic information section on the application form. This includes agreeing to the declaration of honour, the ethics statement as well as agreeing to attend an interview if your application is shortlisted;
Fill in the proposal section of the form: The proposal is broken into three sections: idea, impact and team and budget. Each section needs to be completed;
Provide further documents. Please upload your pitch deck as well as proof of the dataset that you are using if you are applying for a Sector Challenge.
Interview
Shortlisted companies will be invited to attend a 45-minute interview in person, in London, UK (exact venue to be determined) with a panel. During the course of the interview, the applicant will present their proposal in 3 minutes with slides. The rest of the time will be used for questions. Further slides can be added to the annex of the pitch deck. Interviews will take place between Monday October 30, 2017 and Friday November 3, 2017.
Important Dates
Publication date of first call: July 1, 2017 by 12:00 pm CEST
Deadline of first call: October 1, 2017 by 12:00 pm CEST
Interviews: October 30 – November 3, 2017 (face to face interviews, London, UK)
For more information, visit Data Pitch Innovation Programme.