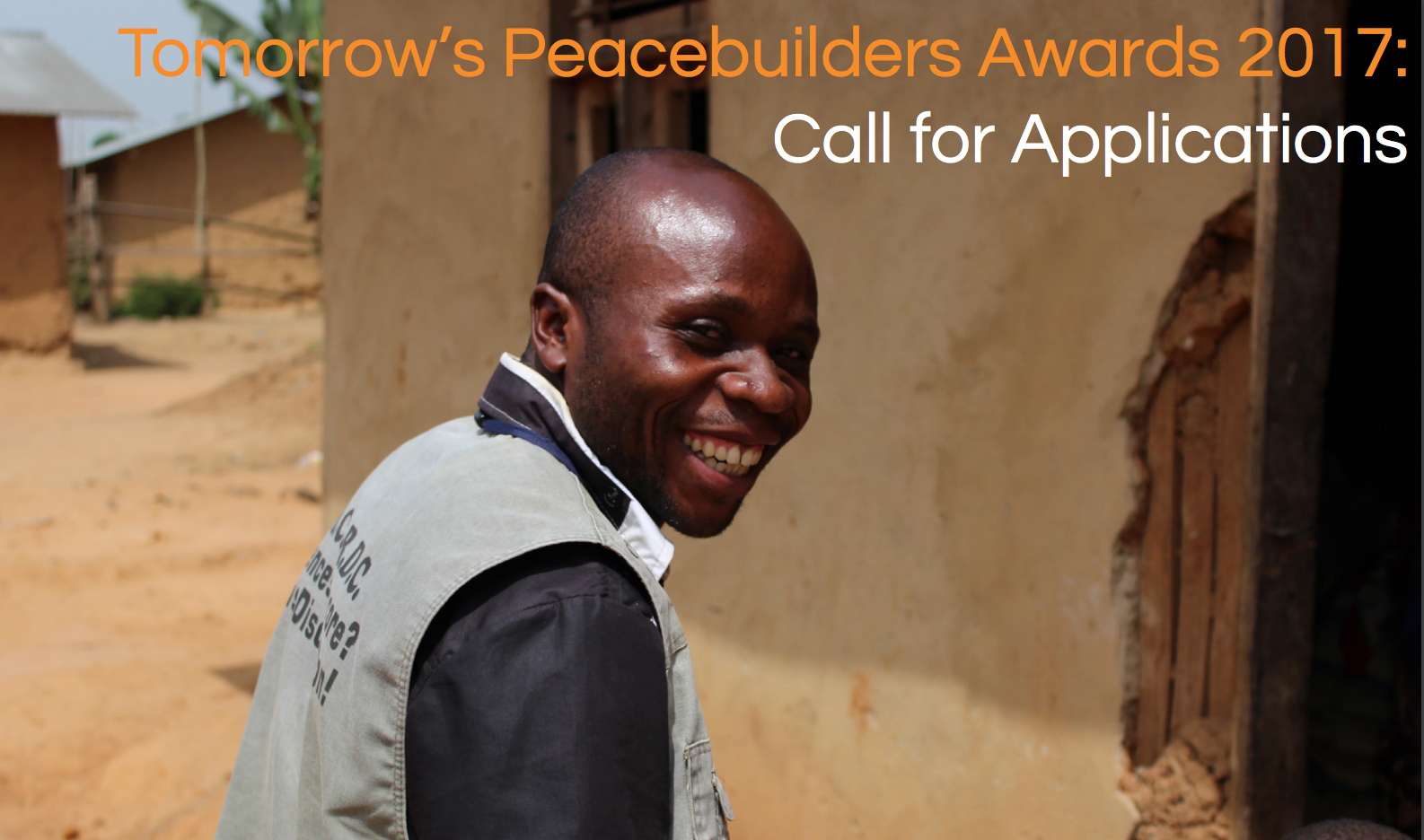 Peace Direct – Tomorrow's Peacebuilders Awards 2017
Deadline: September 6, 2017
Applications are now open for the 2017 Tomorrow's Peacebuilders Awards. Tomorrow's Peacebuilders are the global awards for local peacebuilding run by Peace Direct. Awarded annually, they offer international recognition for grassroots peace activists in conflict-affected countries worldwide. These are inspiring individuals who are building a better tomorrow for their communities, in the world's most fragile and needy places.
The Tomorrow's Peacebuilders awards were launched in 2013 by Peace Direct. They are the only awards of their kind in the world. Peace Direct will provide funding and support to the winning entrants to help facilitate their work. They are chosen by an international panel of experts including distinguished practitioners, political figures and media.
Are you a peacebuilder? Would international recognition and a $10,000 prize help your organisation make a bigger impact? Apply today for the annual Tomorrow's Peacebuilders awards.
Prizes
Three winning organisations will each receive $10,000 and online promotion of their work. One prize is available in each of the three categories below.
Women-led peacebuilding
Youth-led peacebuilding
Inter-religious peacebuilding
There will be three winning entries. Each winning entry will receive:
$10,000 prize funding for peacebuilding activities. • Promotion of their work online, including on the Insight on Conflict and Peace Direct websites and newsletters.
Eligibility
These are global awards. There is no geographical restriction on applications. In order to be eligible to enter, you must:
Undertake peacebuilding work – your organisation is either a peacebuilding organisation or has peacebuilding as a substantial element of your work.
Be locally based – your organisation must be based in the country or communities where your work will be done. If your organisation operates in multiple countries, you are not eligible to enter. (Note cross-border projects are eligible.)
Be an independent organisation, not an in-country or satellite organisation of an international NGO.
Be working, or planning to work, in at least one of the following thematic areas: women-led peacebuilding; youth-led peacebuilding; or inter-religious peacebuilding.
In order to help decide whether to enter or not, we recommend you read our Guidance Notes and Terms and Conditions.
Application
In order to enter, please download and return the application form.
Applications should be completed in English. If you are not comfortable writing your answers in English, you are encourage to have a friend or colleague translate your application into English prior to submission. If these options are not possible, they will accept applications in French or Spanish.
Send completed applications to 

[email protected]

. Please ensure the total size of email attachments does not exceed 5 MB. Emails larger than 5 MB may be rejected by our email system.
Deadline note: We strongly recommend applying as early as possible. We will review applications as they are submitted to ensure they are complete and correct, therefore early applications enjoy this advantage and a greater chance of success.
For more information, visit Peace Direct.