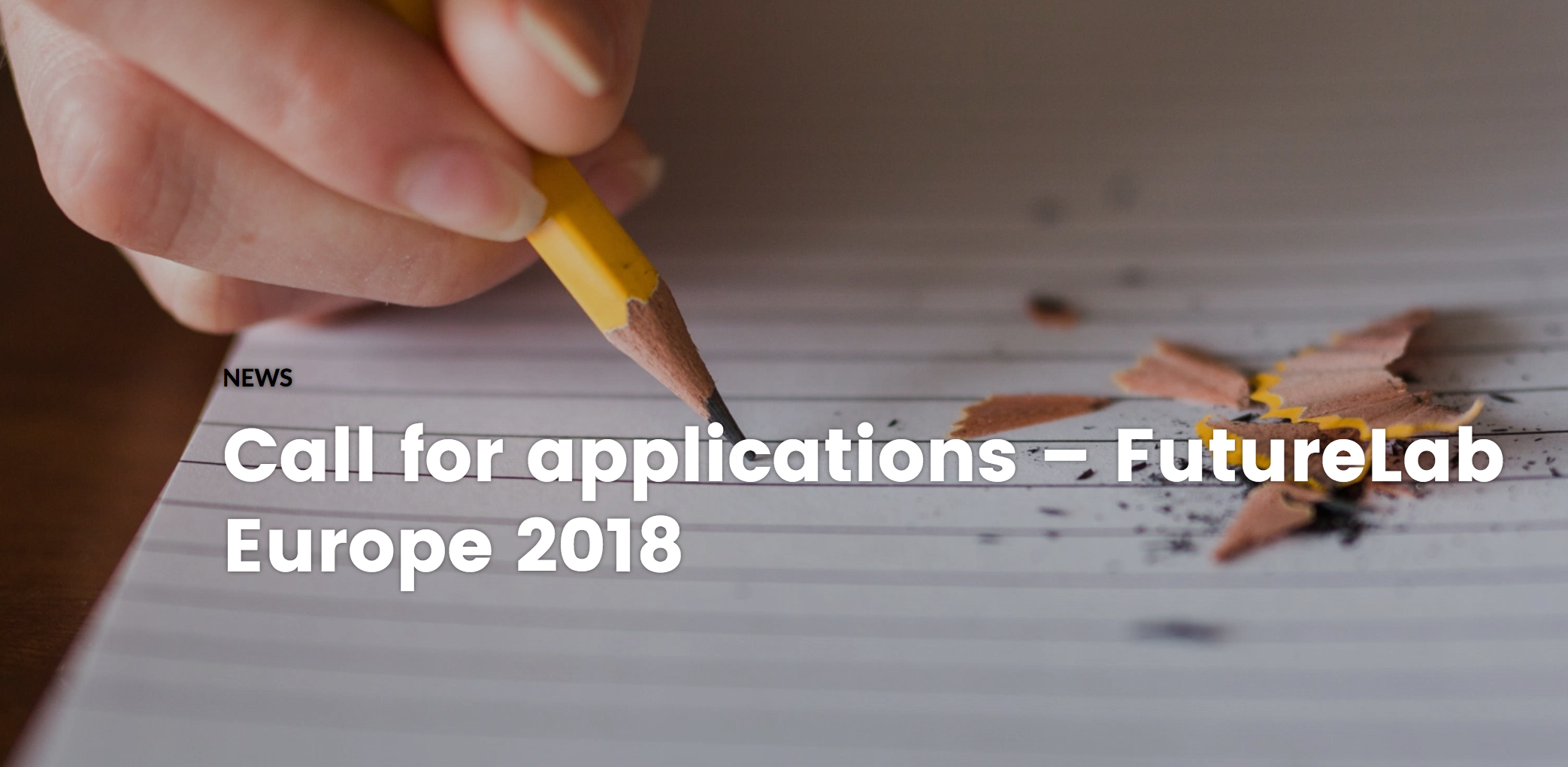 Call for Applications – FutureLab Europe Programme 2018
Deadline: September 24, 2017
Applications are now invited for the 2018 FutureLab Europe. Do you have an idea for a civic project to engage the disengaged? Then this is for you. The FutureLab Europe programme is selecting bright, active and young Europeans who want to play an active role in shaping the future of Europe by implementing a project with a civic impact.
FutureLab Europe offers participants financial support for the concrete implementation of their projects, a unique opportunity to interact with international decision-makers, to enhance their credentials as European citizens, to take action in support of the European idea and to develop and put in practice their own projects. FutureLab Europe aims to give a voice to young people who are actively involved in their local community and/or in national initiatives, supporting their actions and encouraging them to develop ideas on how both public policies and citizens themselves could address the challenges European democracies are facing through participatory, discursive, artistic or educational approaches.
Selected participants will convene to Brussels in January 2018 for the FutureLab Europe Annual Forum – a four-day programme during which FutureLabbers meet each other to discuss relevant topics for the future of our continent with European stakeholders. Participants are expected to attend the entire forum. The forum programme is followed by an Autumn event in Brussels, , the writing of individual blogs as well as the participation in major European conferences, workshops and future scenarios.
Cost and Benefits
During the annual forum in Brussels, all non-travel programme-related costs (accommodation, food, course material, supervision etc.) are covered by the programme. During the follow-up [email protected] events in Brussels and across Europe, all programme-related costs (including travel) are covered by the Alliance.
Participants are respon­sible for covering their own travel costs in connection with attendance at the Annual Forum in Brussels. However, a limited number of travel bursaries is available for participants who are not able to pay for some or all of these travel costs. These are allocated on the basis of motivated requests made following acceptance onto the programme.
Eligibility
The FutureLab Europe programme is aimed at bright, ambitious young Europeans aged 20-30 who want to play an active role in shaping the future of Europe by implementing a project with a civic impact.
Projects ideas can include (but are not limited to!) a blog series, volunteering activities, a picture exhibition, artwork, short movie, school visits, a series of debates and should be connected to the programme's focal topics:

Democratic values in Europe – What can we as young Europeans do to ensure that Europe's democratic values are at the basis of our societies?
Equal opportunities for young people – How can we as young people overcome the multiple barriers we face and ensure that our society and economy offer the same opportunity to all of us?
European identity – Has European identity meaning for us as young people and how can we contribute to further foster it?

Commitment to the European ideal, the capacity to formulate and defend one's positions and ideas on questions of European relevance, and a significant level of civic engagement are required.
Familiarity with European issues and readiness to take action in support of the European ideal are a precondition for participation.
The working language of FutureLab Europe is English.
Applicants should be nationals of Council of Europe Member States.

Albania, Andorra, Armenia, Austria, Azerbaijan, Belgium, Bosnia and Herzegovina, Bulgaria, Croatia, Cyprus, Czech Republic, Denmark, Estonia, Finland, France, Georgia, Germany, Greece, Hungary, Iceland, Ireland, Italy, Latvia, Liechtenstein, Lithuania, Luxembourg, Malta, Monaco, Montenegro, Netherlands, Norway, Poland, Portugal, Republic of Moldova, Romania, Russian Federation, San Marino, Serbia, Slovak Republic, Slovenia, Spain, Sweden, Switzerland, "The former Yugoslav Republic of Macedonia", Turkey, Ukraine, United Kingdom.
Selection Criteria
Applications will be evaluated on the basis of

applicants' communication skills
civic engagement
European commitment
ideas to implement a concrete activity impacting the debate on the programme's focal topics

Affiliation to one of the foundations financing the programme, possession of particular artistic skills and/or belonging to a minority group will be considered advantages.
How to Apply
Complete the online application form to apply.
For more information, visit FutureLab Europe Programme.