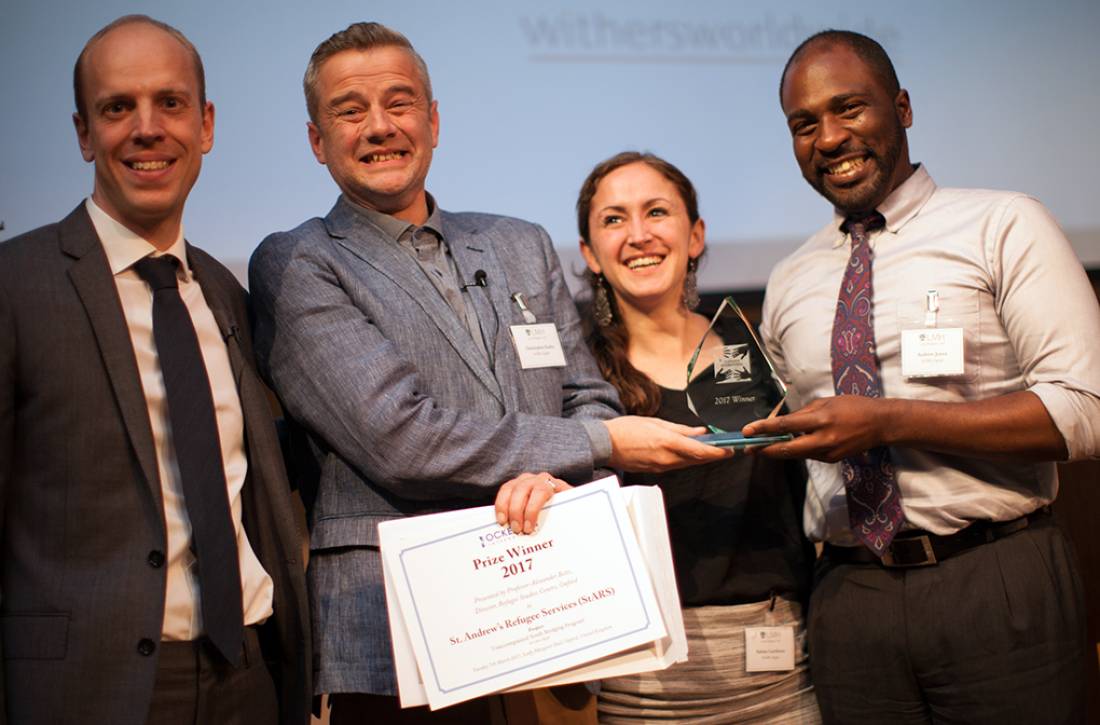 Ockenden International Prize 2018 for Projects Supporting Refugees & IDPs
Deadline: November 30, 2017
Submit entries for the Ockenden International Prize 2018. The Ockenden Prizes seek to support locally-based and/or refugee-led organisations that work directly with refugees and displaced people to advance self-reliance. The Prizes remain focused on identifying solutions to the challenges faced by displaced people, raising awareness of their needs, and rewarding outstanding projects.
Small-scale local organisations have the ability to be agile, well-targeted and highly cost-efficient. However, external funding can be hard to access, and is often tied to a particular project. Refugee experiences are varied and complex, so Ockenden seeks to allow prize-winners to direct the award according to their own priorities rather than Ockenden's. The prizes are unrestricted grants and will be awarded on the basis of initiatives that promote self-reliance among refugees and/or displaced people, with measurable evidence of outcomes that have led to real improvement in the lives of refugees or displaced people. Sound financial governance will also be a factor.
Prizes
The four winners will receive GBP 25,000 each. There are no secondary prizes.
Eligibility
Entrants can apply on their own organisation's behalf or nominate a non-profit partner or affiliated organisation;
Applicant organisations must have high standards of governance – financial and administrative;
The project submitted must benefit refugees or displaced people;
The project submitted must have been initiated no earlier than September 1, 2014 (i.e. no more than 36 months before the opening date for the current year's applications);
Helping refugees and/or displaced people must be the prime focus of the project rather than an ancillary benefit and there must be a strong emphasis on promoting self-reliance. Since its inception, Ockenden International has focused its resources on 'self reliance', initiating and supporting projects and programmes that rapidly reduce and remove the need for financial aid and administrative or social support;
The applicant must be able to show measurable achievements by the project and outcomes leading to independence for its target beneficiaries.
Judging Criteria
The judges will, in particular, look for:
Initiatives that promote self-reliance among refugees and/or displaced people. This may include (but is not limited to) projects that are led by or have a high level of participation from displaced people themselves; projects providing education, legal assistance, livelihoods assistance or any other programmes that help refugees and/or displaced people build stable, independent lives.
Approaches that have proved to be highly effective in improving the lives of refugees and/or displaced people.
Initiatives that lead to real change in the lives of refugees or displaced people.
Effective initiatives, with measurable evidence of project/programme outcomes.
Application
All applications should be made via the online Entry Form;
For any registered charity without access to the Internet, submissions by post will be considered. Download the .pdf version of the Entry Form. Print and fill out the form in block letters and mail it, along with the requested documentation by the closing date, to:
2018 Ockenden International Prize,
c/- Context Graphics Limited,
1 Savernake Court,
Old Church Lane,
Stanmore,
Middlesex HA7 2RJ,
United Kingdom
Deadline for entries is midnight (GMT) on Thursday, November 30, 2017. The four winners to be announced by March 30, 2018.
For more information, visit Ockenden International Prize.