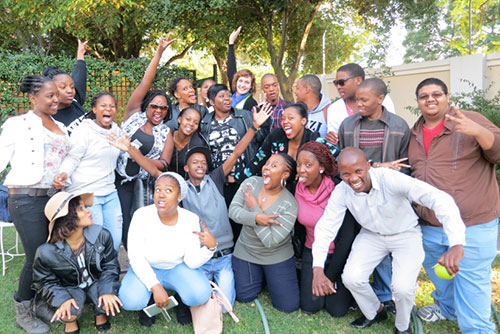 US Embassy South Africa Community College Initiative Program 2019-2020 (Fully-funded to the US)
Deadline: December 11, 2018
Applications are invited for the US Embassy South Africa Community College Initiative Program 2019-2020. The program seeks to foster mutual understanding between the citizens of the United States and the citizens of participating CCI countries.
The CCI Program encourages a holistic learning and exchange experience and focuses on five program pillars: academics, cultural exchange, service learning, internships, and leadership and action planning.
The CCI Program provides participants with a non-degree, one academic-year program at a U.S. community college designed to build participants' technical skills in applied fields, enhance their leadership capabilities, and strengthen their English language proficiency. The program also provides opportunities for professional internships, service learning, and community engagement. After completing the program, participants return home with enhanced skills to help them contribute to the economic development of their countries.
Field of Study
Candidates for the CCI Program are recruited in the following fields:
Agriculture
Applied Engineering
Business Management/Admin
Early Childhood Education
Information Technology (IT)
Media
Public Safety
Tourism and Hospitality Management
Benefits
Selected candidates will receive
J-1 visa support
Round-trip travel from participant's home city to host institution in the United States
Tuition and mandatory college fees
Housing and meals
Small allowance for books, materials, and incidental expenses
Limited Accident and Sickness coverage that is J-visa compliant
A variety of personal and professional development activities
Eligibility
Applicant must be a citizen, or permanent resident qualified to hold a valid South African passport;
Is currently residing in South Africa;
Is 18 years or older by July 1, 2019;
Has successfully earned a secondary school certificate – (Grade 12/Matric);
Has not completed the equivalent of three years toward a U.S. bachelor's degree or higher in the field of study the applicant is nominated to pursue. Nominees without substantive post-secondary education will be given placement priority;
Has demonstrated commitment to the selected field of study through some academic or professional experience. The program aims to identify participants with proven skills or interest and limited professional experience in the fields of study offered;
Has basic working knowledge of English language as demonstrated by a minimum TOEFL score of 400. (Note: To enroll in credit-bearing courses in an academic field of study, the applicant must meet the minimum language requirements of the host college—usually 500 on the TOEFL test or equivalent scores on other standardized tests. English language training will be necessary and is available for those who do not demonstrate this level of proficiency. Participants with a score below 500 must have an interest in taking English language classes as a primary academic focus; they will have very limited access to courses in their field of study. All participants will be retested upon arrival at their host institutions. The host campus testing result will be the score used to determine course placements.);
Has limited or no overseas study experience. Nominees with no prior overseas study or travel to the United States will be given placement priority;
Meets any customized requirements of the home country Embassy/Consulate or Commission;
Submits a complete original application;
Is able to receive a U.S. J-1 visa and meet the program conditions to maintain that status;
Is willing and physically able (with accommodations as required) to complete the program in its entirety, including activities or travel that may be programmed on any day of the week, possibly including early morning or evening hours;
Is committed to returning to his/her home country after completion of the program and satisfying the Jvisa two-year residency requirement;
Is able to begin the academic exchange program in the United States in July 2019.
Application
Download the application information and form in PDF or MSWord. Please carefully read through the application information and submit your complete application. Applications can be submitted to [email protected]
For more information, visit Community College Initiative Program.