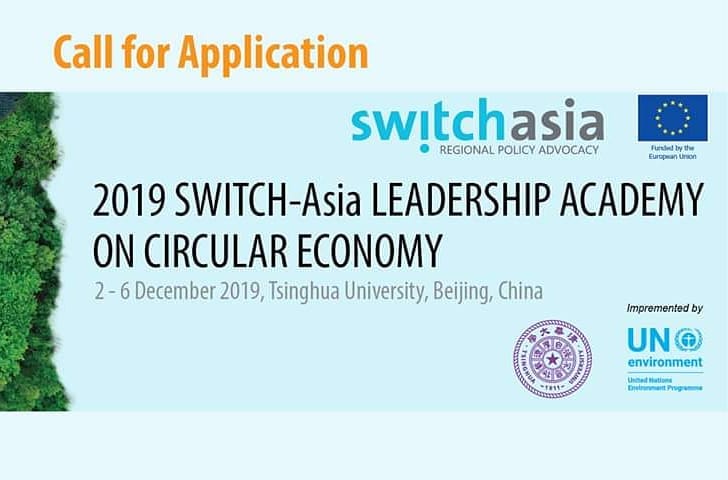 SWITCH-Asia Leadership Academy on Circular Economy 2019 (Funded to Beijing, China)
Deadline: October 13, 2019
The SWITCH-Asia Regional Policy Advocacy Component (RPAC) (implemented by United Nations Environment Programme) and Tsinghua University (represented by the School of Environment) are welcoming applications for the forthcoming SWITCH-Asia Leadership Academy on Circular Economy taking place from December 2 – 6, 2019 at Tsinghua University, Beijing, China.
The overall objective of the EU funded SWITCH-Asia programme is to promote sustainable and inclusive growth, contribute to the economic prosperity and poverty reduction in Asia and Central Asia and to a transition towards a low-carbon, resource-efficient and circular economy.
Launched in 2007, the programme has achieved more than a decade of progress on SCP in 24 countries in the region. This has been possible through the joint efforts of the three SWITCH-Asia components:
The Regional Policy Advocacy Component (RPAC) – implemented by United Nations Environment Programme.
The Sustainable Consumption and Production Facility – implemented by Deutsche Gesellschaft für Internationale Zusammenarbeit (GIZ), the Institute for Global Environmental Strategies (IGES) and adelphi.
The SWITCH-Asia Grants Programme – directly managed by the Directorate-General for International Cooperation and Development of the European Commission.
Cost
Economy travel, accommodation and course registration will be covered.
Eligibility
Open to young participants from countries in Asia who are already working in a topic related to circular economy
Junior government  and private sector professionals or development consultants can apply
Junior professionals from the civil society sector can apply
Eligible countries: Cambodia, China, Indonesia, Laos, Malaysia, Mongolia, Myanmar, Philippines, Thailand, Vietnam, Afghanistan, Bangladesh, Bhutan, India, Maldives, Nepal, Pakistan, and Sri Lanka
Application
 To apply for Leadership for Circular Economy programme, participants should:
Prepare an application letter explaining the circular economy topic they are currently working on and how they plan to apply the knowledge of this Academy to this work (1-3 pages)
Provide a brief CV (one page)
Provide a copy of degrees obtained
For more information, visit SWITCH-Asia Leadership Academy.