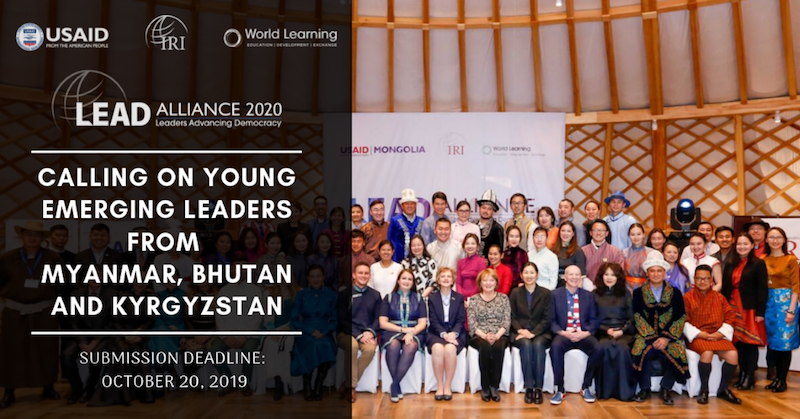 LEAD Alliance Exchange Program 2020 for Young Emerging Leaders from Myanmar, Bhutan and Kyrgyzstan (fully-funded)
Deadline: October 20, 2019
Calling on young emerging leaders from Myanmar, Bhutan and Kyrgyzstan! Are you interested in joining the Leaders Advancing Democracy (LEAD) Alliance – a network of young democracy champions who collaborate to address development challenges in their respective communities? If so, put your vision for change into practice through the LEAD Alliance Exchange Program 2020.
LEAD Alliance Fellows are dedicated to positive change and collaborate with the region's most inspiring and motivated democracy champions in a variety of ways: through leadership webinars, mentorship programs, community development projects and other networking events including the regional LEAD Alliance summit in Ulaanbaatar, Mongolia.
Benefits
The following costs will be covered by LEAD Alliance program:
International and domestic travel necessary for participation in the Summit
Visa fee (for Fellows from Myanmar and Bhutan)
Shared accommodation (two Fellows per room)
Meals and incidental stipend during the Summit
Eligibility
Applicants must satisfy the following criteria:
A current citizen of Myanmar, Bhutan or Kyrgyzstan residing and working in your home country
Valid passport and ability to travel to Mongolia in February 2020
Between 25 and 40 years of age
Demonstrated three years of professional experience in areas related to LEAD Alliance program goals
Sufficient command of English language in order to communicate with other LEAD Fellows
Demonstrated commitment to community leadership and democratic values
Preference will be given to applicants with relevant professional achievements who have not previously participated in U.S.-funded exchange programs.
Requirements
Applicants will need to have a current and valid passport and be willing to undertake the necessary visa requirements to enter Mongolia for the duration of the LEAD Alliance Summit 2020.
Applicants will need to be available to participate in the program fully: engaging in online webinars, traveling to Mongolia for the Summit to arrive in Ulaanbaatar on February 11 and depart back on February 15, and committed to co-implementing a community development project, preliminarily scheduled to take place from April to June 2020.
Application
To learn more and to apply online, please visit .
For more information, visit LEAD Alliance.