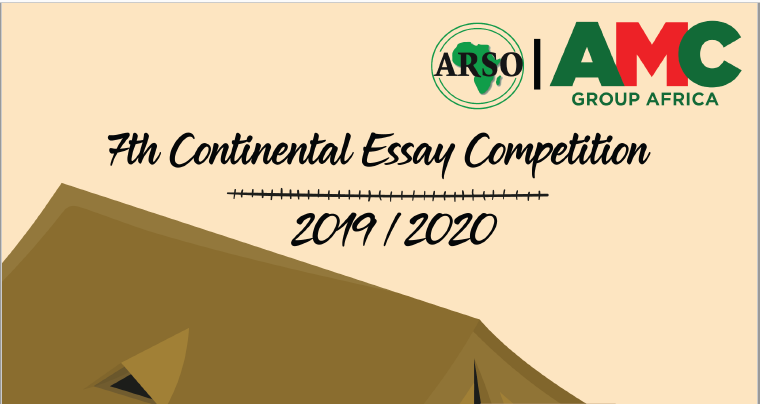 Africa Organization for Standardization (ARSO) 7th Continental Essay Competition 2019/2020
Deadline: March 31, 2020
Applications for the Africa Organization for Standardization (ARSO) 7th Continental Essay Competition 2019/2020 are now open. The theme of this edition is "The role of Standardisation in resolving and addressing the socio-economic issues for the Refugees, Returnees and Internally Displaced Persons and creating durable Solutions to Forced Displacement in Africa."
The Competition aims to have 3 categories of winners: the National, Regional and Continental. The organizers are thereby inviting students in institutions of higher learning in Africa (Colleges/ Universities approved by their local commission of higher education) to submit their essays on the theme.
Prizes
There will be two levels of winners
At Regional level
1st position: USD $500
2nd position: USD $300
3rd position: USD $200
At Continental level
1st position (male and female): USD $1,000 each
2nd position: USD $800
3rd position: USD $500
In addition the 1st position winner will be awarded a trip and accommodation to the next ARSO General Assembly Events in Kampala, Uganda that will take place in 2020 to be honoured.
Eligibility
Open to citizens of all African countries below the age of 25 years living in Africa and studying in a university/college recognised by the local commission for university education or equivalent body in their countries.
Rules and Conditions
Length of Essays: Essays should be between 1000 and 1200 words
Presentation: Essays should be spaced and presented in Century Gothic, size 12
Language of Essays: Essay must be in English or French
Information on the Author: Authors may rise up to 50 words to describe themselves. Information should include their names, course and year of study, name, town and country in which heir university is located. (NB: this will not be part of the 1000-1200 words)
Contacts of Authors: Authors should provide their postal, physical, telephone and email addresses on the first page of the essay together with the title of the essay and information on the author. Also attach a copy of the ID card or passport and a completely filled registration form.
Application
Download the registration form in English or French
The Form shall be submitted to the respective National Standards Bodies (NSBs) email addresses together with the essay and the copy of Identity card or passport at date set by the NSBs
For more information, see Competition concept or visit ARSO Competition.