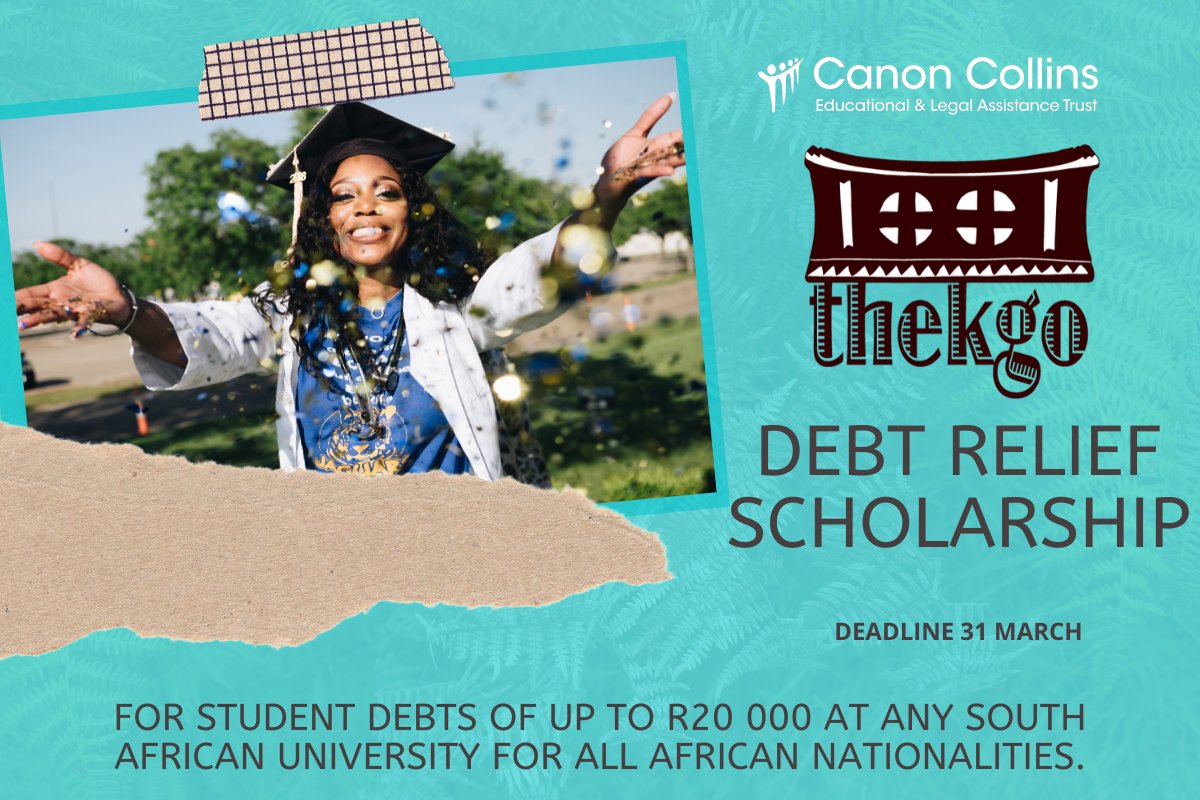 Canon Collins Thekgo Debt Relief Scholarship 2020 for African Students (up to R20,000)
Deadline: March 31, 2020
Applications for the Canon Collins Thekgo Debt Relief Scholarship 2020 are now open. In 2020 these bursaries will be awarded to completed undergraduate students who have already missed at least one graduation and/or were not able to receive the degree certificate due to outstanding debt of up to R20,000 with any public university in South Africa.
In 2019, in response to the new funding of Higher Education by the South African government, the Canon Collins Thekgo Bursary has been restructured from providing registration fee for first year students to providing bursaries that alleviate undergraduate students' debt. Students can apply for debt relief in the following disciplines:
Languages and Literature
Media Studies
Gender Studies
Education
Arts (Digital Arts, Drama/Performance Studies, Visual Arts/Fine Arts, History of Art, Film and Television Studies, Music).
Scholarship
About 5-7 bursaries are dispersed per year depending on the number of applicants. The selection committee decides on the actual amount that will be awarded to individual successful applicants.
Eligibility
You must:
Be a national of, or have refugee status in any African country;
Have completed undergraduate studies (three year or four year Bachelor or Honours degree) in a degree programme within Thekgo's focus disciplines in the Humanities, listed above, at any public university in South Africa;
Have missed one graduation already and/or was not able to receive the degree due to outstanding debt not exceeding R20,000 owed to the university;
Demonstrate academic merit;
Demonstrate financial need.
Selection Criteria
Eligible candidates are selected for debt relief on the basis of the following criteria:
Completed application including all required documents
Their academic merit and career promise
Adequate demonstration of financial need.
Application
Download the application form, save a copy on your computer, and fill it in. You must return the form to the Canon Collins office by email to [email protected] along with your supporting documents.
For more information, visit Canon Collins Thekgo Bursary.