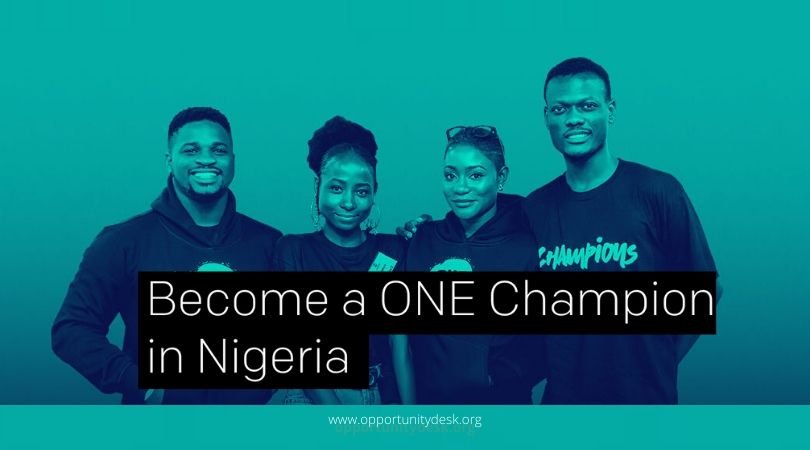 ONE Champions Program 2020 for Emerging Leaders in Nigeria
Deadline: April 6, 2020
Apply to become a ONE Champion in Nigeria. The ONE Champions program is a one-year volunteer program which is entering its 5th year in Nigeria and they're looking for passionate campaigners to join the 2020 cohort.
This is a voluntary program where ONE will recruit, train, and support 50 emerging leaders approximately between 18-35 years of age who will Champion causes ONE supports at the grassroots, state and federal levels in Nigeria. ONE advocates and campaigns on education, gender, health, agriculture and transparency as a means to fight poverty. The program was launched in 2016 with 20 Champions.
ONE Champions will work closely with the ONE Nigeria Country program, led by the Country Director and will work with the direction and support of the ONE Campaigns team to come up with innovative and exciting ways to engage policymakers to secure policy changes and public investments to address poverty in Nigeria.
Benefits
This is a fantastic opportunity to impact your community, country and the world working with a highly-visible, mission-driven ONE supporters in an incredible, supportive environment.
ONE Champions will receive training on how to campaign, pressure decision-makers and engage the media.
You will have the opportunity to attend ONE events and put your skills into practice in meetings with high-level decision makers.
All costs encountered for the induction program are covered by the ONE Campaign.
Eligibility
ONE Champions will have:
A passion for ONE's mission to end extreme poverty and an interest in international issues
Willingness to attend a programme induction and training in person in Abuja
Great communication and teamwork skills
Ability to build and maintain relationships
Ability to encourage and support others
Strong organisational skills with the ability to organise own workload efficiently
A clear commitment to integrity
A commitment to stay engaged with the ONE Campaign throughout the year
Passion for creating change
Proven commitment to efforts to end poverty
Interest in engaging policymakers on issues of relevance
Willingness to dedicate some time to raise awareness and mobilise different people to support ONE's initiatives
Application
For more information, visit ONE Campaign.