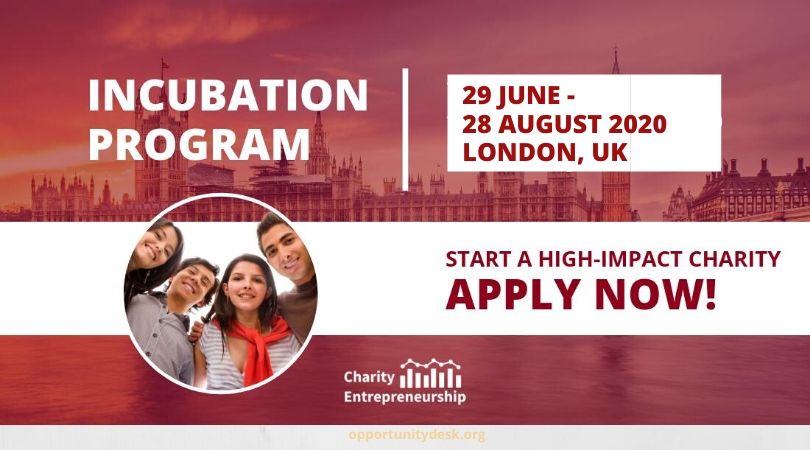 Charity Entrepreneurship Incubation Program 2020 (Fully-funded Boot Camp and up to $100,000 seed funding)
Deadline: April 15, 2020
Charity Entrepreneurship is now accepting early applications to Incubation Program 2020. This is a two-month, fully cost-covered boot camp that will take you from a basic familiarity with starting charities to being fully prepared to create and operate an effective organization. The program will be held from June 29 to August 28 in London, UK. 
Management, fundraising, impact analysis – everything you need to know will be taught by mentors who have experience establishing multiple EA charities. All costs are covered if you are accepted into the program. This includes tuition, accommodation, any flights needed, and a modest living stipend.
​Note on COVID-19:
They are closely monitoring the COVID-19 pandemic situation and always put the safety and well-being of program participants first. They will make all decisions in advance and keep participants informed about any changes resulting from official recommendations. They encourage everyone to apply. If needed, the program will be carried out online. They'll find an effective and safe solution to run it.
How It Works
THOROUGHLY RESEARCHED IDEAS

Each year their research team spends thousands of hours researching potential charity ideas, building on large bodies of research by external organizations. Only the best interventions make it onto their list of top charity ideas.

INCUBATION PROGRAM

They choose participants who, in their view, have the greatest potential to start new, effective charities from their list. They then provide them with two months of intensive training

LAUNCH!

They give you seed funding, legal support, and connections to donors, mentors, and potential employees who all want to see you succeed. The rest is up to you!
After the program, you will be required to start a charity for the following reasons:
$215,000 TO CHARITIES – Achieve an impact equivalent to about $215K/year in donations to effective charities
HIGHLY RECOMMENDED – Pursue a career that is highly encouraged by GiveWell and supported by the Open Philanthropy Project
BETTER INTERVENTIONS – Move resources toward more cost-effective, evidence-based interventions
CAPACITY BUILDING – Increase your future impact by gaining entrepreneurial experience directly from EA mentors
Benefits
The full program costs will be covered by independent donors who support the idea of getting new, effective charities on their feet. These costs include:
ACCOMMODATION: Attendees will be staying in an Airbnb within 30 minutes of the office. If you are from London, they will cover a reasonable rent cost for the duration of the program.
FOOD: You will receive a daily allowance of $25 to cover your basic expenses.
FLIGHTS: We will cover transportation costs, including international flights. They can get the required visas for people from most countries.
What they offer:
FUNDING, LEGAL SUPPORT,​ AND OFFICE SPACE: Their seed funding will give you a strong start. New organizations will receive seed grants of up to $100,000 per co-founding team. They'll handle initial legal hurdles so that you have time to focus on what matters. You'll also be able to use their co-working space for one year, free of charge, to work on your new charity.
A POWERFUL NETWORK: Tap into Effective Altruism's powerful, worldwide network of mentors, funders, and skilled workers. We'll feature you in our networking events and connect you to the right people.
ONGOING MENTORSHIP AND ASSISTANCE: You'll be trained directly by our team for two months, during which time we'll pay for your tuition, flights, meals, and housing. After you graduate, we continue to provide one-on-one mentorship weekly for up to 12 months after the charity's founding.
Eligibility
If you are dedicated to doing good, willing to follow the data, and have a strong interest in having a significant impact on the world — apply to the program.
Doctorates, college dropouts, established professionals with children, and recent graduates have all founded charities through our program.
The base traits that make a good charity entrepreneur include grit, intelligence, resourcefulness, the ability to self-motivate, and risk tolerance.
They accept candidates of all ages, from a wide range of backgrounds.
All participants are free to submit several ideas.
Application
They encourage you to apply even if you are unsure whether you are a good fit. Since we only accept applicants who have a strong chance, with training, to start a high-impact charity, going through the application process will be the best indicator of possible fit.
​The application process comprises five stages. Successful applicants will be informed whether they have been selected one to two weeks after the last round. They expect to accept between ten and twenty attendees in 2020. ​
IMPORTANT: They will only contact applicants who are moving forward to the second stage of the recruitment process. If they have not contacted you within 2-4 weeks after the applications deadline, unfortunately you have not been accepted to the program.
For more information, visit Charity Entrepreneurship.