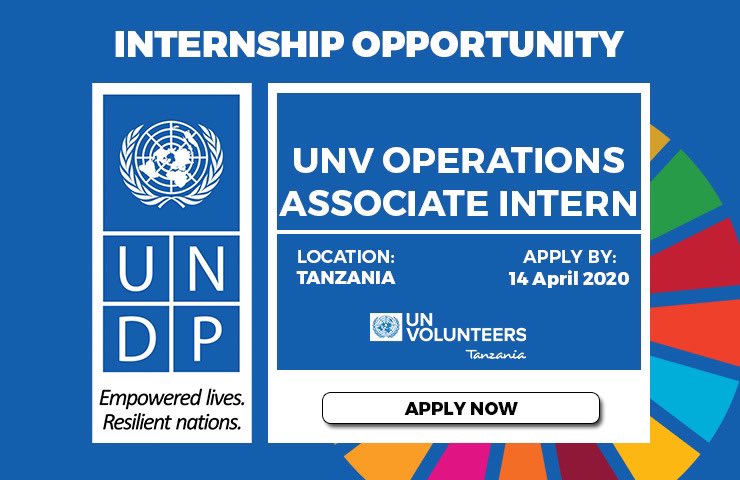 UNDP UNV Operations Associate Internship Program 2020 in Tanzania
Deadline: April 14, 2020
Applications are open for the UNDP UNV Operations Associate Internship Program 2020. The UNV Field Units (FU) are mainly accountable for the mobilization and placement of UN Volunteers in UN Agencies, Funds, and Programmes focusing on peace, development and humanitarian needs.
The UNV Field Units represent and position UNV in the respective countries and bring UNV's services and solutions closer to its partners from governments, UN entities, Civil society and Private sector. Under the direct supervision of the Programme Coordinator, the Intern Operations Associate will provide administrative and operational assistance to UNV Field Unit, in support of volunteer mobilization and deployment.
Duties and Responsibilities
Under the supervision of the UNV Country Coordinator, the Intern Operations Associate shall work and assist the UNV Field Unit to perform, inter alia, the following tasks:
Volunteer mobilization and deployment support
Support the deployment and assignment management of all UN Volunteer modalities;
Support the recruitment of national UN Volunteers, including updating and maintaining a national UN Volunteers local candidate talent pool;
Maintain files of all UN Volunteers assigned to the country, ensuring that all correspondence and periodic reports (online) are properly kept, and that related matters requiring action are brought to the attention of his/her supervisor;
Monitor and keep records of the contractual status of all serving UN Volunteers and flag to his/her supervisor follow-up actions on assignment extensions, renewals and replacements;
Maintain up-to-date volunteer leave records and ensure that all UN Volunteers manage absences as per the UN Volunteer Conditions of Service;
Maintain up to date contact records of all serving UN Volunteers, including their recognized dependents;
Ensure that initial contract documents, beneficiary forms and inventories of personal effects of UN Volunteers are up-to-date, and submitted to UNV headquarters in a timely manner, in accordance with the relevant provisions included in the UN Security Handbook as well as in the UN Volunteer Conditions of Service;
Liaise with UNV HQ and/or country of recruitment on the logistical and travel arrangements of arriving UN Volunteers and his/her recognized dependents;
Facilitate government clearance and entry visas of incoming UN Volunteers and their recognized dependents;
Provide the necessary support to UN Volunteers upon arrival, to open bank accounts as well as to complete forms required to obtain visas, residence permits, etc.;
Undertake tasks for the local support of the UN Volunteers and recognized dependents in the country including in the cases of medical evacuation, security evacuations or the death of a UN Volunteer;
Ensure all conditions are met before the payment of final entitlements to UN Volunteers at the end of their assignment.
Administrative and logistical support
Maintain inventories of all UNV-supplied, non-expendable equipment, and ensure records of all items purchased for UNV-executed projects are submitted to UNV headquarters;
Maintain general office files and keep information and reference material in a manner that allows easy reference and retrieval;
Perform relevant ATLAS HCM roles related for contract management, payroll validation, earnings and deductions, leave management, separations, etc.;
Perform other administrative duties as may be required.
Conditions
The Intern will not be financially remunerated by UNDP.
UNV will only support the selected intern with a minimum of TZS 388,000 monthly for transport to and from work.
Costs incurred by an intern in the discharge of his/her functions shall be reimbursed by UNDP under the same rules as costs reimbursed to staff members. Costs incurred by an intern undertaking official travel at the request of UNDP in the discharge of functions related to the internship activities shall be paid by the Organization on the same basis as costs incurred by staff members, including payment of DSA, as applicable.
UNDP accepts no responsibility for costs arising from accidents and/or illness or death incurred during the internship;
The intern must provide proof of enrolment in health insurance plan.
Eligibility
Applicants must be a graduate from a recognized University (second university degree or equivalent, or higher);
Field of study related to in Business Management, Public Administration or Social Sciences;
Solid overall computer literacy, including proficiency in various MS Office applications (Excel, Word, etc.) and email/internet; familiarity with database management; and office technology equipment and web-based management systems;
Sound security awareness and have affinity with or interest in UNV's area of work, volunteerism as a mechanism for durable development, and the UN System;
Fluency in English – written and spoken is required.
Application
UNDP is committed to achieving workforce diversity in terms of gender, nationality and culture. Individuals from minority groups, indigenous groups and persons with disabilities are equally encouraged to apply. All applications will be treated with the strictest confidence.
For more information, visit UNDP UNV Operations Associate Intern.