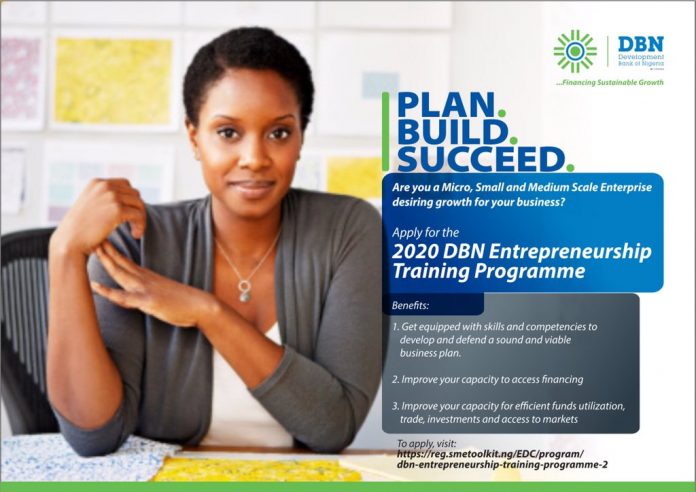 Development Bank of Nigeria Entrepreneurship Training Program 2020
Deadline: July 22, 2020
Are you a small business owner, hoping to get equipped with the skills and competencies needed to run a successful business in Nigeria? Apply for the Development Bank of Nigeria Entrepreneurship Program 2020.
The Development Bank of Nigeria Entrepreneurship Program is an ambitious initiative of the Development Bank of Nigeria (DBN) aimed at equipping micro, small and medium enterprises (MSMEs) with skills and competencies to defend sound and viable business proposals, improve their ability to access available credit, and improve their capacity for efficient funds utilization, trade, investments and access to markets.
This program which is now in its second year, is focused on building resilience in MSMEs in the wake of the COVID-19 global pandemic. Through this program, they will enhance the entrepreneurial and managerial competencies of Nigerian MSMEs towards building sustainable business practices as they continue in their efforts to reignite the Nigerian economy.
Eligibility
The applicant must be:
A Nigerian
18 years and above
Own a viable business that is registered and operated in Nigeria
A for-profit business from any sector
Educated with minimum qualification of Ordinary National Diploma (OND)
Able to carry out the application process online
Committed to the training schedule, physically and virtually, once accepted
Application
To apply, you must first register. After registering you will receive a confirmation email from Development Bank of Nigeria Entrepreneurship Program with all the details you will need to log in.
For more information, visit DBN Entrepreneurship Program.