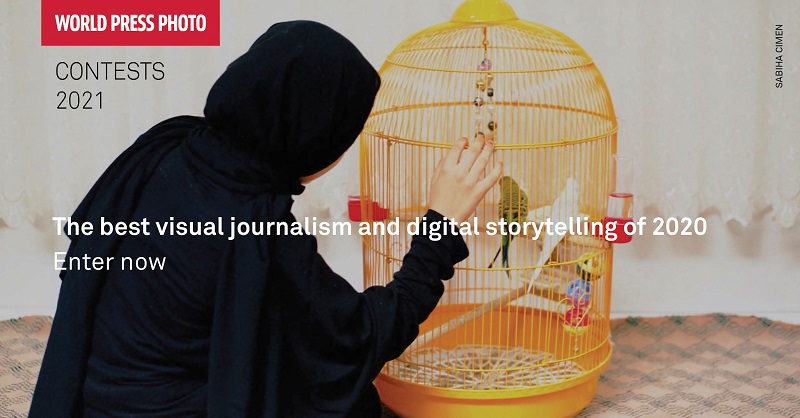 World Press Photo Contests 2021 for Photographers worldwide
Deadline: January 12, 2021
Entries are invited for the World Press Photo Contests 2021. The annual World Press Photo Contest rewards photographers for the best single exposure pictures contributing to the past year of visual journalism. Whether entered as singles or stories, these pictures are judged in terms of their accurate, fair, and visually compelling insights about our world.
The World Press Photo Contest recognizes the best visual journalism and awards visual stories in eight categories:
Contemporary Issues
Environment
General News
Long-Term Projects
Nature
Portraits
Sports
Spot News
Prizes
The winners of the World Press Photo of the Year and the World Press Photo Story of the Year awards receive €5,000 each.
All winning photographers will be invited to a small online festival including the winners announcement, presentations, lectures and networking opportunities for the winners to connect to a selected group of jurors, editors and industry professionals.
The prize-winning photographs are assembled into a worldwide year-long exhibition.
The winning pictures are also published on World Press Photo's website, across our social media platforms, and in their annual yearbook, which is available in multiple languages.
Eligibility
Open only to professional photographers. Every entrant needs to provide a document with a valid date that proves their current professional status. Examples of documents that count as proof include, but are not limited to:

A recent letter of reference (must be from 2019 or 2020) from a photo agency, photo editor, media organization or publication;
Membership document from a recognized photographic association that show photographer is a professional member;
At least 1 tearsheet showing your picture/s from 2019 or 2020, with your name visible as credit, in either online or print format from a recognized media organization or publication;
Journalism union membership card;
Press card.

Team entries of two or more photographers are allowed. Per team member proof of professional status must be provided.
The photographer(s) must be the author(s) of the pictures submitted in his/her/their name.
The photographer(s), or the agent or representative entering on their behalf, must be the copyright holder(s) or have been authorized by the copyright holder(s) to submit the pictures.
A picture can only be entered once, either as a single picture or as part of a story, or as part of a body of work in Long-Term Projects. Pictures submitted more than once will be removed from the contest.
Pictures can be submitted whether or not they have been published.
Application
For more information, visit World Press.