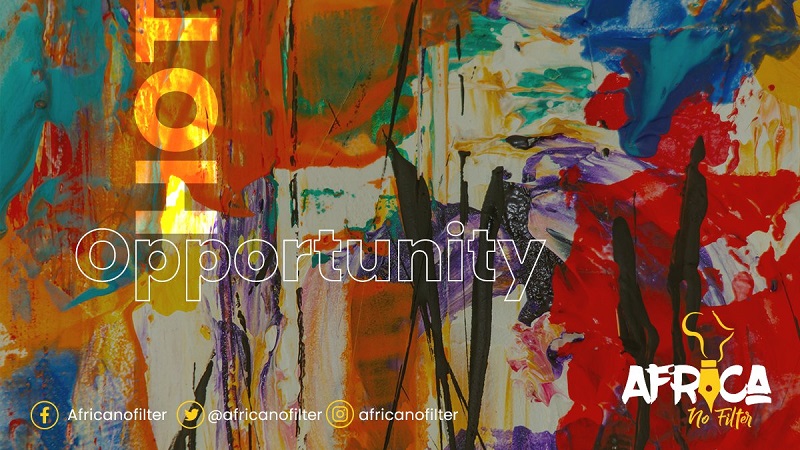 Africa No Filter Emerging Artists Fellows Program 2021/2022 for Artists and Creative Practitioners ($5,000 grant)
Deadline: February 15, 2021
Applications are open for the Africa No Filter Emerging Artists Fellows Program 2021/2022. Africa No Filter is seeking exceptional emerging artists for a 12-month remote fellowship. Fellows will be expected to develop and deliver a project which demonstrates and/or explores how art and creativity can be used to challenge harmful narratives about Africa and present contemporary, accurate narratives.
The Arts Fellows Program will provide 12 exceptional creative practitioners from across the continent with mentorship, peer to peer skills sharing and new networks through monthly fellow-led seminars throughout the year. Fellows are also supported with a $5000 grant to assist in executing the proposed project, documenting findings and establishing new creative methodologies that can be presented and taught to a wider audience.
Benefits
Africa No Filter will provide a total of $5000 per fellow and will also offer:
One on one mentorship – each fellow will be assigned with a mentor whom they will virtually meet with once a month.
Monthly fellows meetings for peer to peer skills-sharing.
New networks – they will host quarterly networking events where you will meet with leading creative practitioners.
An annual in-person convening in Fall 2021 (subject to change due to COVID-19).
Feedback on your proposed project.
Marketing and dissemination of your project to our funders and the ANF community.
Eligibility
Open to emerging artists and creative practitioners in Africa who are passionate about challenging pre-existing harmful narratives, using art and creativity as a medium.
Fellows are encouraged to propose innovative, groundbreaking projects that have both digital and in-person elements.
Project Expectations
Fellows are required to submit a project proposal as part of their application, which will be developed and executed as part of the Fellowship. Fellows will be required to:
Submit project aims and milestones at the beginning of the fellowship.
Have a clear project outcome (such as a book, documentary fil, report, event etc).
Develop a clear methodology which can be shared with other fellows.
Host at least one digital peer to peer skills sharing session.
Application
Applicants should read the application guidelines before starting applications. Applications must be submitted by February 15, 2021. The Fellowship will be granted in April 2021, to be completed by April 2022.
For more information, visit Africa No Filter.