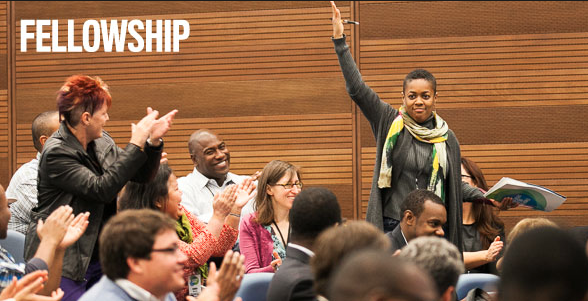 Echoing Green Fellowship 2021 for Innovators Worldwide
Deadline: April 20, 2021
Applications are open for the Echoing Green Fellowship 2021. Through the Fellowship, they find innovators, mobilizers, community organizers, and social justice leaders working on a plan to make the world better in a big way. Then they help them grow their impact by connecting them with the tools, resources, and communities they need to bring their ideas to life.
If you have the ideas and vision to bring positive change to the world, they want to work with you. Don't worry if your business plan or resume isn't perfect. What matters is that you are committed to the problem you are solving and ready to make a significant impact.
Benefits
Leadership Development

Personalized Framework: A comprehensive program to build and grow leadership skills and develop the strategies needed for ideas to thrive.
Wellbeing Support: Ongoing support focusing on mental and emotional wellbeing, as well as self-care workshops designed specifically for the struggles of entrepreneurship.

Seed Resources

Leader Support: A portfolio team facilitates the Fellow experience and connects these leaders to experts and opportunities according to their needs.
Seed Funding: A stipend over 18 months (80,000 USD). Funding offered to for-profit organizations is in the form of recoverable grants.

Lifelong Support

Retreats and Networking Events: Gatherings to connect Fellows across classes and cohorts, as well as with experienced business leaders, institutions, and investors committed to solving global issues.
Expert Partners: A suite of pro-bono support from leading professionals to build organizational capacity and help navigate the social entrepreneurship field.
Eligibility
Applicants
You must be over 18 years old, fluent in English, and able to commit full-time to your organization. If you are currently a full-time student or employee, you must agree to make your organization your full-time engagement if awarded a Fellowship.
You must be the primary decision-maker and have ultimate authority over the growth and strategic vision of your organization.
You do not need to be based in the United States or be an American citizen. Echoing Green does not sponsor American work permits for any foreign nationals.
You are welcome to reapply in future cycles if you do not receive a fellowship.
Organization
The organization must be the original idea of the applicant, in its start-up phase, and independent and autonomous.
An organization can be structured as a nonprofit, for-profit, or hybrid.
An organization does not only have to be run by one individual, but only a single applicant is eligible to apply for an Echoing Green fellowship starting in 2021.
Organizations still in the idea phase are eligible. You do not need to establish 501(c)(3) status or register your organization before you apply.
The organization must be independent and autonomous. It cannot be under the management of another organization. If you have a fiscal sponsor that provides support but does not control organization decisions, you are eligible.
No members of an organization's founding team and no individuals in a leadership position at the organization can already have been awarded an Echoing Green Fellowship.
Tuition or scholarship funding, or research projects; lobbying or faith-based organizations; and existing organizations that have grown past their start-up phase are not eligible to apply.
Application
Here is an outline of information you'll be asked to provide in the Echoing Green Fellowship application:
General information about you.
Information about your organization including but not limited to: general information, financial overview, and how you think about and categorize your work.
Short answer questions about the problem you are trying to solve, the approach you are taking, and your proposed impact.
Information about you and your leadership, which includes sharing some of your past experiences and short answer questions.
A series of questions to learn more about how you think about your work and the organization you are building. This will include short answer questions and a collaborative analysis where you will be asked to identify other organizations similar to yours.
You will be asked to upload a 60-second video answering the question "Why do you do what you do" while sharing your personality, energy, and passion.
For more information, visit Echoing Green Fellowship.