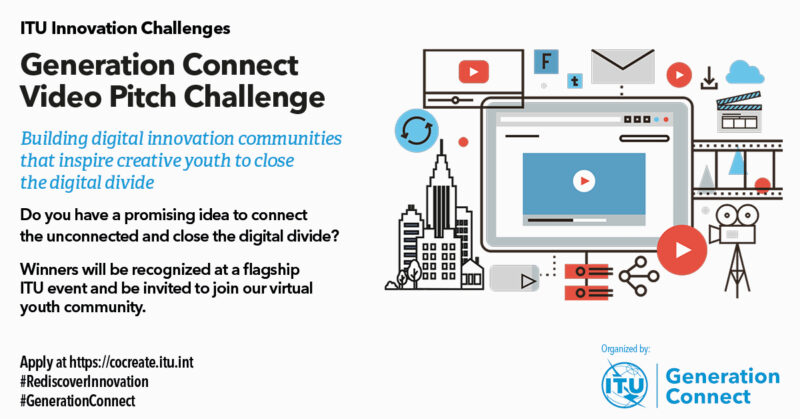 International Telecommunication Union (ITU) Generation Connect Video Pitch Challenge 2021
Deadline: July 31, 2021
Applications are open for the ITU Generation Connect Video Pitch Challenge 2021. The Generation Connect Video Pitch Challenge seeks promising and meaningful ideas to connect the unconnected to close the digital divide, highlighting the importance of youth involvement.
Generation Connect aims to engage youth globally and encourage their participation as equal partners alongside the leaders of today's digital change, empowering young people with the skills and opportunities to advance their vision of a connected future.
Young voices in the international digital development dialogue should be amplified as we all push to connect the unconnected and bridge the youth digital divide. This challenge also exemplifies ITU's long-term commitment to provide youth with platforms to participate in ITU's initiatives.
Awards
The top 10 winning submissions will be featured at the Generation Connect Youth Summit.
Their creators will also be invited to participate virtually in the event and join the Generation Connect virtual community.
Standout ideas to be featured on "International Youth Day" during The Road to Addis.
Eligibility
Young ICT enthusiasts aged between 18 to 30 years are eligible to participate in this challenge.
Participants must share their ideas through a story on how ITU can achieve its goals to connect the unconnected and close the digital divide.
This story must be conveyed through a video recording no longer than one minute.
Applicant's video pitch must fit to one of the following categories/topics:
Capacity building: Brings digital skills to society.
Cybersecurity: Offers solutions that promote online safety and security.
Digital inclusion: Empowers people with specific needs; including indigenous peoples, people in rural areas, persons with disabilities, and youth and children.
Climate change and environment: Helps countries mitigate and adapt to the effects of climate change.
Emergency telecommunication: Enhances disaster risk reduction and improves national emergency telecommunications and early warning and monitoring systems.
ICT applications: Enhances citizens' lives, promoting smart living and improving public service availability.
Regulatory and enabling environment: Enables collaboration for a sound policy, legal and regulatory environment for digital development.
Technology and network development: Enables reliable ICT infrastructure and services for all.
Data and indicators: Facilitates evidence-based data collection and analysis to measure the information society and promote informed decision making.
Evaluation Criteria
The evaluation criteria below will be used for the selection of the winning proposals. Each criterion has been assigned a percentage weight for scoring.
20% for Originality: the concept must be original.
20% Creativity: the idea must be innovative and unique.
10% Sustainability: the idea must clearly elaborate the ways in which the proposal will be able to continue.
20% Viability: the idea must be realistic and logical.
10% Impact: the idea must fall within the scope of the challenge and have crosscutting impacts.
20% Relevance: the idea must be relevant to the challenge topics.
Application
Only submissions which are accompanied by the application form (duly completed in English and signed) and are received before 5pm Central Eastern Time on the deadline date will be considered.
Submissions are only possible via email to [email protected]
You will also have to register your idea which is described in your submission link.
For more information, visit Generation Connect Video Pitch Challenge.