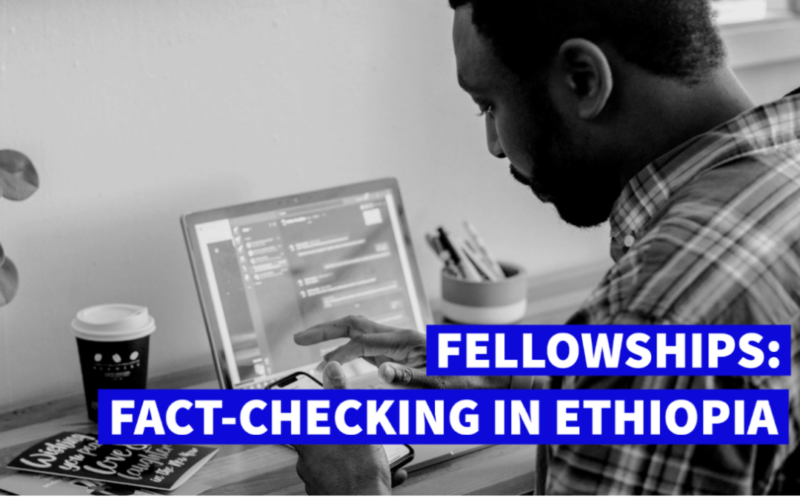 Code for Africa (CfA) Fact-checking Fellowship Program 2021 [Ethiopia Only]
Deadline: July 18, 2021
Applications are open for the Code for Africa (CfA) Fact-checking Fellowship Program 2021. Code for Africa (CfA) is offering intensive fact-checking fellowships for journalists, newsroom managers and civil society (CSO) researchers in Ethiopia. Successful applicants will learn fact-checking techniques through hands-on mentorship and project-based learning.
The fellows will be mentored by a team of international experts, supported by Ethiopian-based fact-checking professionals. The program is designed to include a combination of modular step-by-step lessons, alongside one-on-one peer mentoring. Fellows will use their new skills and tools to produce real world fact-checks or newsroom management assignments using CfA's task-driven 'learn-by-doing' model.
Fellows will also be given the opportunity to launch new fact-checking projects for their organisations, with additional technical support from CfA's team of editorial and technology experts. This team includes senior editors and specialists from Africa's largest fact-checking organisation, PesaCheck, which has teams in 14 African countries, including Ethiopia.
Fellowships
Fact-checkers: CfA is offering a four-month part-time fellowship to active, full-time freelance journalists/researchers, who have the support of an institutional partner (such as a newsroom or watchdog NGO), and pioneering start-up entrepreneurs (in both the non-profit and social enterprise space) and/or strategists/pioneers tasked with setting-up a fact-checking desk for their organisation.
Newsroom managers: CfA is offering a five-month part-time fellowship for newsroom/institutional managers focused on equipping managers with the tools and techniques for setting-up and managing internal production systems for sustainable fact-checking desks/teams or for launching new products/services.
Benefits
Fellows will learn the following practical skills:
Fact-checking basics: Understanding fact-checking methodology & taxonomy, and fact-checking techniques using a range of specialised tools.
Audience engagement: Understanding how to create unique topics/themes for specific audiences, and how to build audience engagement and feedback systems.
Production systems: Understanding how to design editorial/research workflow processes, tooling and staffing strategies, for streamlined integration into the host organisation's wider production processes.
Policy frameworks: Understanding how to apply international ethical and professional guidelines for quality assurance and industry accreditation, with special emphasis on applying the International Fact-Checking Network's (IFCN) Code of Principles.
Eligibility
You must be an established journalist/manager in a newsroom, watchdog NGO/social enterprise, or research/policy institute.
You must be able to commit to publish/broadcast your fact-checks on an appropriate public platform.
You must be based in Ethiopia, with demonstrable local experience/insights.
You must be fluent in English and Amharic, as these will be the languages of tuition and mentorship. Your fact-checks may be produced/published in another language, but translated copies must be made available in either English or Amharic.
You must have access to a home laptop/computer with internet connectivity, to be able to participate in online classes and benefit from the digital mentorship and electronic resources.
You must be able and willing to commit to attending all classes and completing all lesson assignments during the four months.
You must have a letter of support from your newsroom manager/editor (if you're a staff reporter) or a letter of commitment/authorisation from a partner newsroom or publishing partner institution (if you're a freelancer or CSO researcher), to ensure that your work reaches a meaningful audience. Alternatively freelancers should notify their organization via email and cc CfA.
You must commit to sharing your new skills and insights within your organisation and wider journalistic/research fraternity, by demonstrating your projects and techniques to peers.
You demonstrate a commitment to free and independent journalism in your professional career.
Application
The deadline for applications is July 18, 2021. Late applications will be rejected.
For more information, visit Code for Africa.