Deadline: May 15, 2014
Applications are now open for the 2014 World Nomads Travel Writing Scholarship. This is your chance to learn, travel and create! Its a dream, right? Well, stop imagining, and get writing, because World Nomads wants to send not one, but three budding travel writers to be mentored by a veteran Lonely Planet author and explore Europe on your own terms.
Learn
First, the 3 scholarship recipients will be flown from their countries of residence to Berlin where they will spend 2 days at the very first World Nomads Travel Writing workshop. Under the mentorship of veteran Lonely Planet author and industry mentor, Alex Leviton, you will learn how to find a great story, create solid pitches, improve your writing skills and gain a better understanding of the travel writing industry.
Travel
After the workshop, each writer will be off solo on their own customised 10-day European itinerary. As part of the application, you need to tell us about the two places you would most like to write about in Europe. We'll take these places of interest, throw in a few summer festivals and some local friends – and send you off on planes, trains and automobiles across Europe.
Create
During your road trip, you will be tasked with writing about the people you meet, your adventures (and mis-adventures), and your local off-the-beaten-path encounters.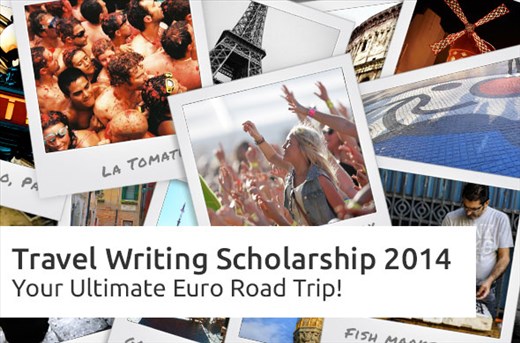 Scholarship and Prizes
The 3 successful applicants will receive the following;
Return Economy airfare from your country of residence to Berlin, Germany
2-day custom Travel Writing course in Berlin with mentor Alex Leviton
3 nights accommodation in Berlin courtesy of Visit Berlin
10-day bespoke road trip across Europe including transportation through GoEuro and accommodation with Hostelworld
10 nights accommodation (up to £25 per night) across Europe provided by Hostelworld
1000€ to spend on food and activities for the duration of the assignment
Enrollment in the MatadorU Travel Writing course (with 3 months unlimited access to the course)
Cost of any relevant visas and vaccinations
Travel insurance with WorldNomads.com
The top shortlisted entrants will receive:
Enrollment in the MatadorU Travel Journalism primer course (with 3 months unlimited access to the course)
Requirements from Winners
The 3 scholarship recipients must attend and participate in all workshop activities in Berlin as outlined by mentor Alex Leviton.
As part of the assignment, the 3 scholarship recipients must:
Submit 4-5 feature travel articles from your road trip (within 2 months of your return) that will be published on World Nomads and partner websites as briefed before the trip.
Keep a daily blog (200+ words per day) about your time on the road and upload this (plus photos) to your WorldNomads.com travel journal.
Post photos of your best "travel moments" to Instagram on a daily basis so that we can follow your adventures.
Eligibility and Criteria
This opportunity is open to students, emerging and non-professional writers and lovers of travel looking for a career change.
The scholarship is open to all nationalities, however, you must have an exceptionally high degree of proficiency in written English.
The opportunity is designed to give you a taste of what it's like to be a travel writer on the road, so you must be comfortable travelling and working on your own.
Minimum age 18 by the date the scholarship application closes (May 15, 2014)
You need a current passport with at least six months left before expiry.
You must be available as per the dates set out. Please note these dates are not changeable in any way, you must be available for the entire assignment.
You should be an exceptional writer with a lust for adventure travel, a desire to experience new cultures and above all, a burning desire to become a professional travel writer!
How to Enter
Entry is free. No purchase necessary. One entry per person.
To enter,
1. Submit a 2500 character (or less) travel focused essay in English based on a personal experience around one of the following themes;
'How did I end up here?' or
'The first time I…' or
'I'll never forget the day that…'.
2. Complete an entry form which includes contact details and a maximum 1200 character essay on why you should be chosen and what the opportunity means to you.
3. Submit two destinations that you would like to write about in Europe. These destinations will become guidelines for the European itineraries, which will also include a European festival (La Tomatina, Notting Hill Festival, World Bog Snorkelling Championships, Aste Nagusia fiesta). The 3 winners should open to other destination suggestions if necessary to the travel itinerary.
The best 3 overall entries will best interpret both the writing task and best articulate why the author of the entry should be awarded the 2014 World Nomads Travel Writing Scholarship.
Make sure you read the terms and conditions before applying
For more information and to apply, click here.