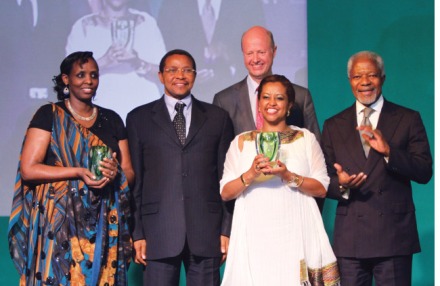 The 2015 Yara Prize – $ 60,000 USD Award
Deadline: June 19, 2015
The Yara Prize was established in 2005 as a direct response to the former UN Secretary-General Kofi Annan's call for a green revolution in Africa in 2004. It aims at celebrating significant achievements related to food and nutrition security and sustainable agriculture with a transformative power.
2015 Yara Theme
In 2015, the Yara Prize will have a special focus on; youth, women and agribusiness in Africa. The prize will also consider strongly those individuals who have contributed towards catalyzing transformational change in support of an African Green Revolution.
The Prize recognizes such efforts and results in any field of work clearly related to combating hunger and reducing poverty in Africa, within every aspect of agriculture and food production supporting the development of both the input and the output market, particularly:
1. Food and nutrition security and sustainable agriculture

Food production and availability
Creation of agricultural value chains and local markets
Sustainable intensification in the smallholder sector
Human nutrition
National policies and politics to enhance awareness of the importance of agricultural inputs and promote sustainable food production methods
Soil and water management
2. Transformative change 

Well-proven leadership
African owned and led
Sustainability of the initiative
Initiatives moving to scale or with potential to move to scale
Prize
The Yara Prize 2015 will be handed out during the African Green Revolution Forum in 2015. The exact date and venue are to be decided. The Prize can be awarded to more than one winner, but not more than two. If shared, each winner will receive equal prize money (USD 60, 000 divided in two), a diploma and a trophy.
Eligibility
This is open to any qualified candidate, irrespective of nationality, profession or location, whose work, and contributions deriving from the work, has had a clear impact on the African situation, nationally, regionally or for the continent.
The Yara Prize can be awarded to any individual or identifiable group of individuals, as well as to established institutions, associations, organizations or government bodies with a formal and recognized judicial and organizational structure contributing to the overall objectives of the Prize.
Current or recent members of the Yara Prize Committee, or an institution/organization headed by such a member, are ineligible for the Prize. The Prize cannot be awarded to a person already deceased, but will be presented in the event a Prize winner dies before receiving the Prize.
Nominations
To be eligible for the Prize, a nomination must be submitted in writing, in English. Please use these guidelines to ensure that we can properly evaluate your nomination.

Nominations should be sent to:

The Yara Prize 2015
Attn: Svein Flatebø
Address: Yara Prize Secretariat, P.O. Box 343, Sköyen, N-0213 Oslo, Norway Tel: + 47 97 65 79 90
e-mail: [email protected]
For more information, visit Yara Prize