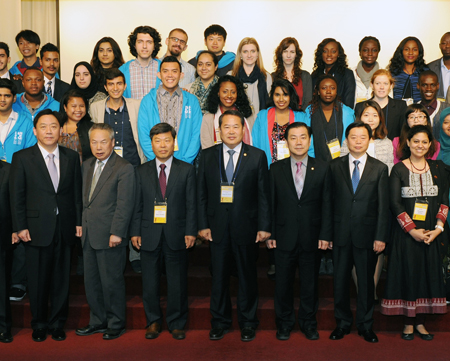 Meet the Young Leaders selected for Global Youth Advocacy Workshop on GCED – Busan, Korea
The United Nations Global Education First Initiative (GEFI) has selected 48 inspiring youth activists and leaders from across the world on the basis of their current engagement and future commitment in educating youth at the local and national levels around GCED. The youth leaders are attending the Global Youth Advocacy Workshop on Global Citizenship Education (GCED) taking place from the 30th March to 4th April 2015, at the Geumjeong Cultural Center in Busan, Republic of Korea.
Organized in partnership with the Asia-Pacific Centre of Education for International Understanding (APCEIU) and the Mahatma Gandhi Institute of Education for Peace and Sustainable Development (MGIEP), the workshop aims to build the capacity of dynamic young leaders from across the world to advocate for GCED. Participants will identify specific topics around GCED and advocacy, reflecting on the global challenges around post-2015.
Working both individually and in groups, the young leaders will expand on these topics, devising advocacy goals and strategies for use at local and national levels. Participants will also engage in information sessions and workshops at the training to support them in this task, on areas such as 'Advocacy tools to build strategies', and 'Bottom-up planning for advocacy campaigns'.
Congratulations to all the selected youth leaders and to Opportunity Desk Founder, Grace Ihejiamaizu.
Africa
John Gbenagnon from Benin
Muhani KIBANDJA from D.R. Congo
Enoch Opare MINTAH from Ghana
Claire OKATCH from Kenya
Beyan Flomo PEWEE from Liberia
Lova ANDRIAMASINORO from Madagascar
Victoria IBIWOYE from Nigeria
Grace IHEJIAMAIZU from Nigeria
Ijeoma P. IDIKA-CHIMA from Nigeria.
Esther Christine MCFARLANE from South Africa
Sibusiso TSHABALALA from South Africa
Moses MACHIPISA from Zimbabwe
Arab States
Manal HARROUCHE from Algeria
Hind TOUISSATE from Morocco
Bshr DAYANI from Syria
Sirine REKHIS from Tunisia
Ahmed SAEED from Yemen
 Asia-Pacific Region
Hayley MCQUIRE from Australia.
Anika SHAHJABIN from Bangladesh
Yuxuan Chen from China.
Varun JHAVERI from India
Tanvi GIROTRA from India
I Wayan Alit SUDARSANA from Indonesia
Evi BAITUROHMAH from Indonesia
Woosung Jung from Republic of Korea
Anish SAPKOTA from Nepal
Nalini SINGH from New Zealand
Hussain HAIDER from Pakistan
Rolando Jr. VILLAMERO from Philippines
Jieun WOO from Republic of Korea
Jiwon YOON from Republic of Korea
Dong-ryul KANG from Republic of Korea
Ruri LEE from Republic of Korea
Yujeong NOH from Republic of Korea
Woosung JUNG from Republic of Korea
Omer Faruk BAYSAL from Turkey
Indra GANZORIG from Mongolia
Chuong Xa from Vietnam
Europe and North America
Griet VANDEBURIE from Belgium
Cheryl PERERA from Canada
Natascha SKJALDGAARD from Denmark
Anna SUSARENCO from Moldova
Alexandra SJOLIN FALK from Sweden
Jamira BURLEY from USA
Caribbean and Latin America
Patricio Guillermo from Argentina
Paula Melisa TRAD from Argentina
Pablo ALPIRE from Bolivia
Santiago MARTINEZ from Colombia
Lorena GAMARRA from Peru
The Youth Advocacy Training is supported by Educate A Child and Geumjeong District of Busan City, Republic of Korea.