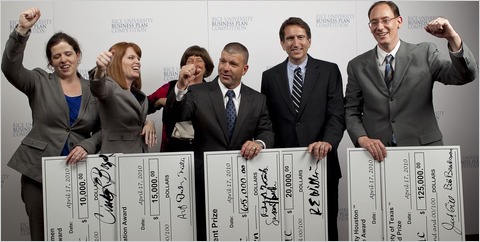 2016 Rice Business Plan Competition – More Than $1.5 Million in Prizes!
Deadline: February 19, 2015
Applications are open for the 16th annual Rice Business Plan Competition (RBPC) at Rice University's Jones Graduate School of Business. Forty-two teams from the world's top universities will be selected from the applicants to vie for more than $1.5 million in prizes in the RBPC, which in November was named the No. 1 business plan competition for offering "serious cash" by the Princeton Review and Entrepreneur magazine.
More than 750 teams are expected to apply to compete in four categories:
Life sciences;
Information technology/Web/mobile;
Energy/clean technology; and
Tech innovation.
A cohort of more than 300 judges will select the winner based on the company that represents the best investment opportunity.
Prizes
Cisco joined the competition this year offering three Cisco Internet of Everything (IoE) Innovation Challenge prizes. The three cash prizes will be awarded in the amounts of $100,000, $25,000 and $10,000. The Cisco IoE Innovation Challenge aims to recognize entrepreneurs that promote and accelerate the adoption of breakthrough technologies, products and services that capture the value of IoE to benefit society.
Other top prizes include the $300,000 Investment Grand Prize from The GOOSE Society of Texas, the OWL Investment Prize, which totaled $285,000 in 2015, and the $50,000 U.S. Department of Energy Clean Energy Prize.
There will also be specific prizes for the best women's health innovation, top energy team, top IT team and top team led by women.
The 2016 grand prizewinner will ring the closing bell at the Nasdaq MarketSite in New York City.
More than 150 former competitors have successfully launched their ventures and are still in business today, and another 15 have successfully sold their ventures. Past competitors have raised over $1.2 billion in funding and created more than 3,000 new jobs.
Eligibility
Graduate students with a business plan for a new startup company are encouraged to apply to compete.
Application Process
Students will need to submit a three-page executive summary and one-minute video pitch through the competition's website.
This year, all teams who apply will receive feedback on their startup from the competition's Review and Selection Committee, comprising select members of the judging panel.
Deadline for applications is 5 p.m. CST, February 19.
For more information, visit Rice Business Plan Competition.