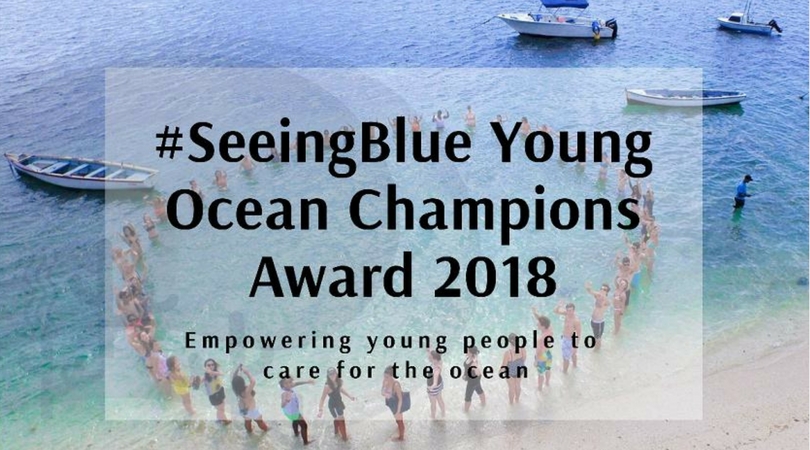 #SeeingBlue Young Ocean Champions Award 2018 (Up to US$1000 in seed funding)
Deadline: March 15, 2018
#SeeingBlue is calling for applications to its Young Ocean Champions Award 2018. The theme for the 2018 Award is 'blue' (ie sustainable) tourism. #SeeingBlue, aims to build a generation of young ocean champions, ocean leaders and stewards. It offers an opportunity for young people to identify and incubate ideas for sustainable ocean development through its Young Ocean Champions Award.
The Young Ocean Champions are then mentored and supported, through capacity-building efforts, to make these ideas a reality. In July 2018, the #SeeingBlue Ocean AdvocaSea Bootcamp will be organised in Mauritius to enhance key skills including leadership and project management. These will be complemented by scuba-diving sessions to inspire young people to protect the ocean through first-hand and practical experiences. Now in its third year, the Young Ocean Champions Award was launched with the aim of unlocking the potential of young people to develop the ocean economy. Applications are now open for the 2018 Cohort of Young Ocean Champions.
Are you burning with the fire to do something for our oceans? Do you have an idea that you want to share with the world? Would you like to receive seed funding and mentorship to make your idea a reality? Apply now for the Young Ocean Champions Award.
Categories
There are two categories:
13 – 18 year old, and
19 – 30 year old
Benefits
Apply to the Young Ocean Champions Award 2018 to win:
US$1000 in seed funding to implement your project idea
US$500 in prize money
Scuba diving courses
Fully funded participation in the Ocean AdvocaSea Bootcamp held in July 2018 in Mauritius
Mentoring by ocean industry experts
Capacity building, resources and support in leadership skills, advocacy and sustainability
Access to a growing network of ocean professionals, youth advocates, experts and enthusiasts from Mauritius, Seychelles and beyond.
National prize winners and runners-up will also be chosen, and they will receive scuba diving initiations.
Eligibility
The competition is open to youth from and based in Mauritius and Seychelles
Applicants must be aged 13-18 (category one) and 19-30 (category two).
You can apply either individually on in groups of up to five people in either category.
Selection Criteria
They are looking for projects which are:
impactful (tackles an issue with concrete results)




creativity and innovation (thinking outside the box); 




feasibility (clarity in showing who/how the solution will be implemented (by); and




sustainability (whether or not this solution will be long-lasting); 
The best projects will also show evidence of research and strong awareness of the situation, and be applicable to the context of Seychelles/Mauritius. They will not be assessing you on language or grammar but instead focus on the content and passion that you show through your submission.
Application
To apply, send your project idea and participation form to [email protected] by 15 March 2018.
Download the participation form.
For more information, visit Young Ocean Champions Award.