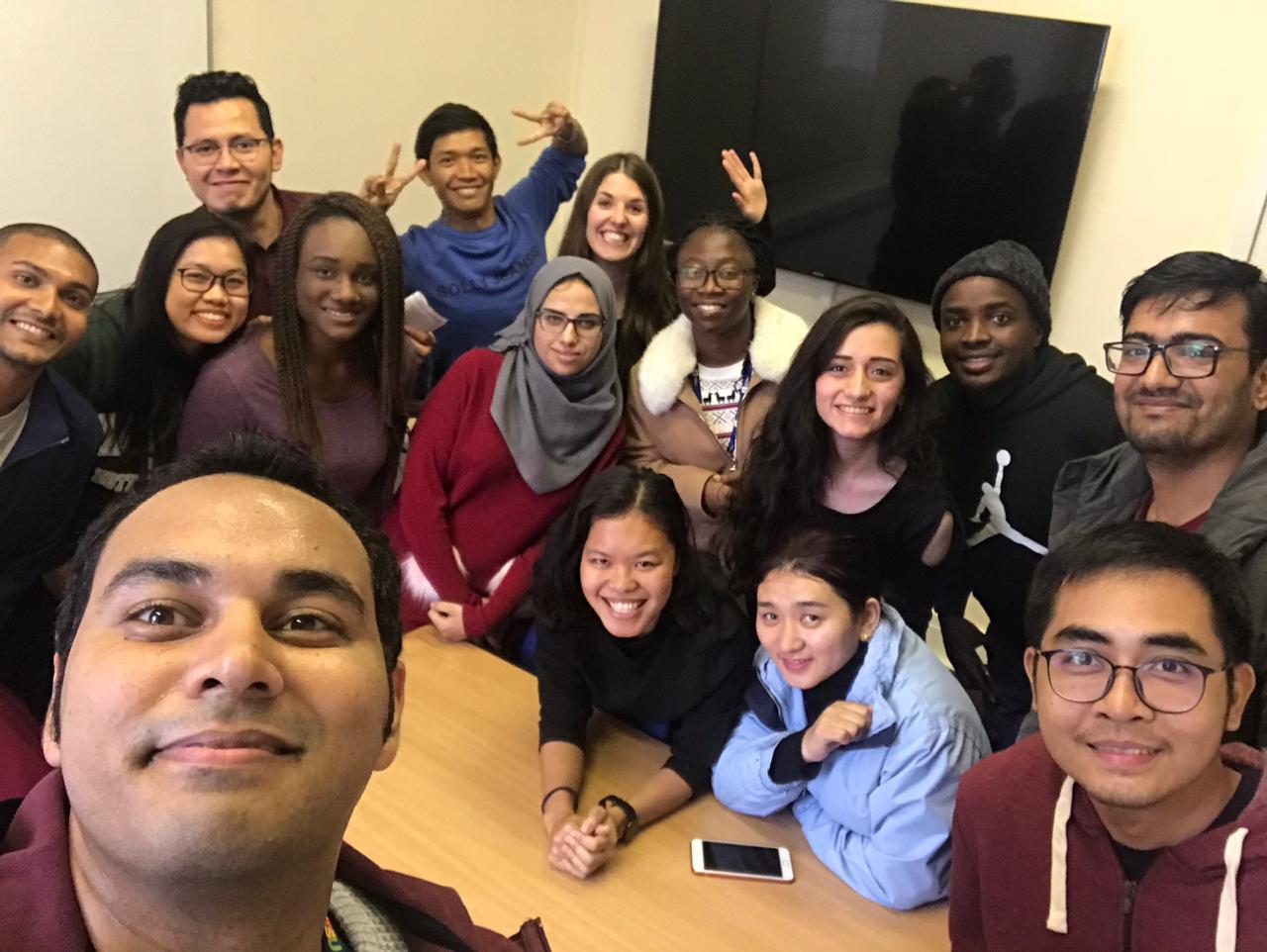 Top Tips For A Great Chevening Scholarship Application From Us At Notts
The Chevening Scholarship programme for the year 2019/2020 is open for applications. Chevening is the UK Government's international awards scheme aimed at developing global leaders.
Funded by the Foreign and Commonwealth Office (FCO) and partner organisations, Chevening offers two types of award – Chevening Scholarships and Chevening Fellowships – the recipients of which are personally selected by British embassies and high commissions throughout the world. With an alumni community of 50,000 individuals, the highly prestigious Chevening Scholarship programme has produced leaders across the world in various sectors.
Top Tips For A Great Chevening Scholarship Application
Getting the Chevening scholarship was a dream come true for me and a life changing moment. In this post I share some tips I hope will help you put together a good application to increase your chances of being selected for the scholarship. There are a few key components of your Chevening application and I will be highlighting each of them. I have also asked a few friends of mine who are also Chevening scholars to include their comments and you will find them quoted in this post!
''Chevening is a partnership, show what you offer as a partner and how what the Chevening scholarship offers will help you achieve a shared goal (read about their programs in your country)'' – Noor Mousa, Iraq
ENGLISH TESTS
The English Language Requirement is an important part of your application and it's best to take your English Language test as early as possible (Usually from when you begin your application). You do need your English test to get admission into your University of choice except you're exempt from this, however, Chevening would only require you to fulfil the English test requirement by July of the next year and your test should have been taken after October 2017. When deciding on which test to take, consider if the test center is available in your country or near you and also consider if the test is accepted by the universities where you want to apply.
Chevening accepts a number of English language tests.
Test Time – approx. 2 hours 45 minutes spread over 2 separate days
Result time – approx.. 13 days
Test Time – approx. 4 hours
Result time – approx. 10 days
Test Time – approx. 3 hours
Result time – Usually 5 business days but mostly you should receive it in approx. 24 – 48 hours
UNIVERSITIES
At the point of application. Chevening will require you to list 3 Universities and courses in order of preference. You do not need to have gained admission into these universities at the point of application but you do need to have an unconditional offer from at least one university before the final deadline if you do get selected for the scholarship. Also, you will be given a final opportunity to change your university choices during your interview if you make it to that stage.
Check the Chevening website for a list of universities and courses that are accepted. Chevening typically accepts a wide range of Universities in the Uk so it is highly unlikely that the university you desire is not on that list, regardless, still check to be sure. Research the Universities and the courses thoughtfully and carefully. Make sure you can demonstrate passion and a connection between your course choices, your professional experiences and your future career plans when writing about this in your essays. Check if your course is in line with Chevening priority areas in your country, it helps if your choices are aligned. Most of all, it should be clear how your university and course choices will develop you personally and professionally, and also equip you to be a leader in your country on your return.
Make sure you choose the right course that will support your career and professional development. Take your time to check out the course details. Read about the modules, course entry requirement, fees, and make sure it is a Taught course! If you are applying for an MBA, be aware of the Chevening scholarship cap (currently 18,000 GBP for MBAs). If your MBA course fee is higher than the indicated amount, you will need to pay the balance. Try to apply for tuition scholarships from the school as soon as possible. – Nguyen Thi Phương Thao, Vietnam
ESSAYS
Your essays are easily a very crucial part of your application. This is where chevening gets to interact with you at first instance to try to understand you as an individual, assess your motivations, leadership potential and the potential impact you would make in your country as a result of the opportunity the scholarship brings. You will be required to write 4 essays in 500 words each across leadership, networking, career plans.
Here are a few tips to guide you:
Starting the essay may seem difficult but a great tip is to break up each essay into bullet points and begin developing your ideas from there.
This may be stated in every application advice column but I cannot stress how important it is to be original. Let your essay truly be a reflection of who you are. Chevening essays can be somewhat a soul searching process, take your time, do not put yourself under pressure, find some time to sit still and think deeply about why you want this scholarship and how your previous work has prepared you for this opportunity. I can truly say I rediscovered myself after writing these essays. I recommend writing something down before searching for essay samples online. The samples can be a good guide but sometimes can lead you to think in the direction of the writer when Chevening is more likely to appreciate a well put together original line of thought. Also, do not plagiarize. Chevening will check but bear in mind that you would have to defend your words if you do make it to the interview stage.
Spare time to finish the 4 essays. Try to complete and focus on one essay before moving to the next one. If you get stuck, find essay forums or other Chevening scholars group to get enlightenmen. – Andina Dwi Kanti Setyaningrum – Indonesia
Your essays should reflect strong passion and vision. Your leadership potential is extremely important. Build on and highlight your involvement in community development. Your essays should display that you are a worthy investment.
Be clear, concise and specific.
Remember that you only have one chance to make a good first impression and these four essays are your opportunity to tell Chevening you are the candidate they are looking for!!! Take a lot of time drafting and proofreading your essays! Keep in mind that reaching the interview stage is the most difficult part considering that you only have 500 words in each essay to prove you are the ideal candidate! Pick your best examples and don't try to tell your whole story in the essays. It will make it confusing! Choose two or three examples and work deep in them! – Dariela Valdes, Cuba
When writing about your work, do not just write vaguely but show your impact in numbers. It should be clear how many people you have reached and intend to reach. Use measurable values.
Mention specific examples in the essays that show your role and the impact you have done. Also, take some time after finishing the application to reflect on your writing for editing purposes. – Sondos Alqutati, Palestine
Maintain consistency and good flow in your essays.
Do not lie but don't be shy either. This is your time to speak extensively about your work. Make sure you highlight the key information. Try to summarize without leaving out the most important aspects of your essay and leverage the 500 words to reflect yourself as a promising individual set to leave a lasting impact in your country and the world.
"Be succinct and honest. Do not write something you do not understand. Be genuinely honest about your experience, you may want to exaggerate but do it in a very nice and light way" – Andina Dwi Kanti Setyaningrum – Indonesia
DOCUMENTS
The scholarship application process may differ from country to country but generally you'd need to have the following documents for your initial application (Could be more):
Valid International Passport
University Transcripts
University Certificate
English Language certificate (Needed before final deadline)
Reference letters (Needed before interview) 
REFERENCES
You will need two references for your application. You would be listing the names and details of the references at the point of application but the reference letters would only be required before your interview. It is also good to work on this early. Make sure you list people who are easily accessible as well. Your references should be people who can really comment on your work and abilities and can reflect how well they know you. In selecting your references, seek one academic reference and one professional reference, but professional references will also work just fine.
References are important, do not underestimate the impact they have on the overall assessment of your application. Therefore, choose your referees wisely and strategically and also ensure that your references not only corroborate your achievements but also gives the assurance that you are a future leader destined for great things. Stacey Weever- Guyana
GETTING HELP
Hopefully, this post helps you prepare a winning application however, reach out to former scholars and people in your network to help you review your essays. They can provide useful feedback to help you tweak a few bits.
One of the key skills Chevening is looking for is Networking! Use yours and get involved with other applicants, scholars, alumni, colleagues! I always tell people, when I started to apply for Chevening I did not know a single person who knew about Chevening or scholarships at all and I still put together a successful application thanks to many scholars and applicants as me who helped me without knowing me. By the time I got the scholarship I had already met most of the applicants of this year who later became my fellow Cheveners! – Dariela Valdes, Cuba
THE PROCESS
The entire process from application until the Final Chevening Scholarship Award can take up to one year. It will feel long and sometimes you will get anxious but find strength and faith. Believe that you are prepared for this and hopefully you are. Find faith and prayer and most of all, keep working on those great things you would've spoken about in your essays. Get to work on some of those career plans and projects even while you wait.
APPLY FOR THE 2019/2010 CHEVENING SCHOLASHIP NOW BEFORE THE DEADLINE NOVEMBER 6, 2018
Reach out to any of us or connect with me on linkedin
Wishing you all the best!
Author: Deborah Braide, Nigeria
For more articles, visit OD Blog.